The Australian Manufacturing Workers' Union (AMWU) has expressed its disappointment in State LNP member Anne Maddern after the MP made offhand comments undermining the importance of the manufacturing industry in Maryborough.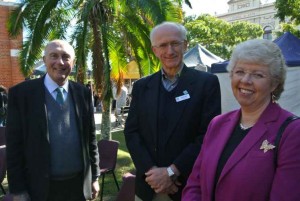 Regional AMWU organizer Brad Hansen said Maddern commented on the declining employment in Maryborough during the 7:30 report on Friday, referring to building and tourism as a priority, followed by "other interesting things."
"Those interesting things she is referring to is the rail manufacturing industry and it contributes to 30% of this regions' economy," said Hansen.
"It has provided employment and training opportunities for over three decades – her flippant comment demonstrates the State government's failure to acknowledge the importance of manufacturing."
Hansen said the Newman Governments failed to include the manufacturing industry in its "four pillars" which include tourism, agriculture, construction, and resources.
Late last year the Fraser Coast Chronicle reported that Maryborough has shed dozens of jobs since the election of the Newman Government in March 2012. Reporter Hannah Busch said that while the Government's move to cut 14,000 jobs from the Queensland public service has attracted the criticism, the root cause of the problem in regional employment may lie in the city's manufacturing sector.
Federal MP Warren Truss said the job cuts made by manufacturers Downer EDi and CQMS Razer are "a real blow to the Maryborough community." Truss said new ideas should be implemented to kick start the local economy and create jobs.
While Maryborough Chamber of Commerce President Paul Smith agreed with the opinion of Truss, Maddern said that agriculture is the strength that could be grown, alongside the other three pillars.
"I certainly don't believe that we should give up on our manufacturing sector, but we will need to look to alternative uses of our skills base rather than rely on traditional uses," Maddern said, quoted in the article on Fraser Coast Chronicle.
Meanwhile, Hansen said the manufacturing industry in Maryborough has provided much needed jobs to the community but has struggled recently after rail projects were shipped overseas.
"The Wide Bay area has traditionally had high unemployment and manufacturing like the Downer EDI has provided jobs for the community, but now it is under threat with rail projects being outsourced," said Hansen.
"Manufacturing is the lifeblood of our local community and this blasé attitude from Anne Maddern demonstrates how clueless the current Government is over the importance of the manufacturing industry.
"We need to make manufacturing strong. We must continue to train young people and develop their skills.
"This is the backbone of our community and the Government needs to acknowledge this so we can create a whole economy once more."