Fuel efficiency, reduced running cost and lower CO2 emissions are just some of the economical improvements car buyers could expect from the new VF Commodore.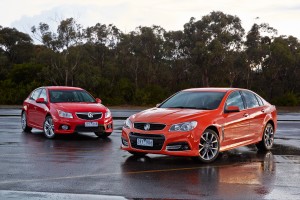 With the help of the Australian Government's $39.8 million Green Car Innovation Fund (GCIF), Holden was able to add a range of advanced fuel economy enablers to their latest offering, including the aluminium componentry, electric power steering and aerodynamic improvements.
"Our aim with VF was to achieve the best-ever fuel economy performance for Commodore. We also wanted to make this the best-equipped, most technologically-advanced Commodore which means more equipment and more weight," said Holden's VF Lead Development Engineer, Andrew Howell, in a media release from the company.
"The fact that we've delivered a vehicle that's packed with the high-tech features yet still manages to offer remarkable gains in fuel economy is a tribute to the depth of engineering and design talent we have here at Holden."
"Our teams focused on the 'big three' fuel economy enablers – increased aerodynamic efficiency, mass reduction and the introduction of electric power steering."
Light-weighting initiatives was one of the major focus of Holden's VF engineers in order to boost fuel efficiency.
"We applied multiple mass reduction and optimisation measures across all engineering and design elements of the car. Together they reaped big rewards in real world fuel savings – and at the same time the drive character, structural strength and safety performance was made better than ever," said Howell.
Engineers were able to deliver a total net weight reduction of 43kg—a total of 72.5kg of mass was removed from the car but an extra 29.5kg in improved features, including the fuel-saving Electric Power Steering rack and higher standard equipment were added.
Holden also made the switch to aluminum boot lid and bonnet manufactured by plants in Australia.
New panels are made in the automotive manufacturing plant of Hirotec located in Adelaide. According to Howell they are 30 percent lighter but are just as sturdy as their steel equivalents.
"This is a huge mass saving and means we can  support the bonnet with a single gas strut," shared Howell. "Commodore also uses a light-weight aluminium instrument panel beam, made by Diver Industries in Melbourne. Again it's stiffer and just as strong as the steel support it replaces, but also brings refinement benefits, with reductions in noise and vibration."
Aside from funding the improvements made to the VF Commodore, the GCIF also facilitated the introduction of GM's Global A electrical architecture to the car. The new electrical interface allowed Holden engineers to launch several advanced driver assistance, safety and user features—a first for an Australian-made car.
"When it comes to safety, Holden is committed to providing protection before, during and after a collision, but the best scenario is to avoid that collision in the first place. Much of the new technology we've added is designed to help drivers do just that – to prevent an accident from happening," said Holden Director of Electrical Engineering, Jo Markham.
VF has more advanced-technology features than any vehicle in Australian automotive history, according to Holden, making it "the most technologically advanced car ever created in Australia."