The PACIA National Conference 2013 is set to highlight the next decade of plastics and chemicals in Australia, with the release of a strategic plan for sustainable growth – PACIA's Strategic Industry Roadmap.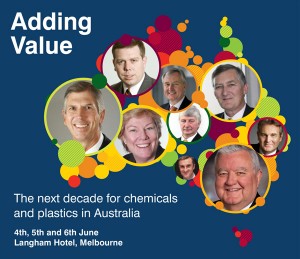 The 2013 program will present a high calibre of speakers including Dr Megan Clark, Cal Dooley,Professor Ian Chubb AC, Paul Howes, The Hon John Brumby, Innes Willox, Dennis Shanahan, Tom Elliot, Bernard Salt, Peter Schutz, Albert Goller?, Paul Balfe, Miles Prosser, Anne Barker, Ross Pilling, David Pullan, Sam Bastounas and Ross McCann, with more to be announced.
According to PACIA, the sessions over two days will include:
The Australian economy in a global marketplace
Politics, polls and the upcoming Federal Election
Productivity, regulation and red tape reform
Gas and energy markets
Perspectives from Industry Chief Executives
Adding value: the next decade for chemicals and plastics in Australia
PACIA's Strategic Industry Roadmap
Recently, PACIA launched the first part of the Strategic Industry Roadmap project: An independent CSIRO Futures report: 'Elements in Everything: Current profile and future trends for the Australian chemicals and plastics industry'.
The two final pieces of the Strategic Industry Roadmap project will be launched during the PACIA National Conference 2013.
CSIRO is expected to deliver the second independent report titled 'Strategic Directions'. PACIA has stated this report will contrast business as usual against a strategy of sustainable growth that can provide increased economic output, more jobs, greater scope for innovation and locally made products.
"Together, these three reports detail a plan for sustainable growth in the chemicals and plastics industries. The conference program will explore the report outcomes and the positive steps required by government, industry and other stakeholders to ensure the future viability and success of the chemicals and plastics manufacturing in Australia," PACIA.
To register for the PACIA National Conference 2013 click here.