The Australian Manufacturing Workers' Union (AMWU) has called for consumers, supermarkets and government at all levels to step up in order to save the country's canned food industry after Simplot Australia announced on Wednesday that its food manufacturing plants at Bathurst, New South Wales and Devonport, Tasmania are under threat of closure.
The Bathurst plant, which employs about 160 permanent workers and hundreds on seasonal basis, is the largest corn processor in Australia. Meanwhile, the plant at Devonport is the last vegetable freezing plant left in Australia. After the recent closure of Windsor Farms cannery at Cowra, the risk of Bathurst closing down would leave NSW with no vegetable canning capacity, according to AMWU.
Simplot Australia started in 1995 and produces canned vegetables under iconic brand names including Chiko, Edgell and Birds Eye.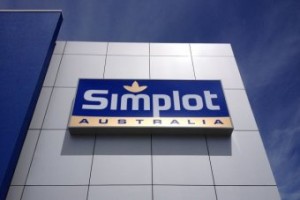 "Simplot's closure would be a massive blow to jobs in Bathurst. It would be a blow to NSW farmers who sell their local produce to Simplot and leave consumers without the option to buy Australian-made tinned fruit and veges when they go to the supermarket," said AMWU NSW Tim Ayres in a media release.
The announcement follows a six month review of Simplot's supply chain operations in the vegetable category. In its statement Simplot said the threat of closure is "due to unsatisfactory financial returns arising from a very competitive food industry environment and unsustainably high costs associated with manufacturing in Australia."
"Essentially it revolves around the fact that the vegetable business in Australia has been a chronic underperformer from the profit perspective for a long, long time," said Terry O'Brien, Managing Director Simplot Australia in an interview on ABC Rural.
O'Brien said their reading of the market's prospects suggests that it is not going to get better and if anything, it's going to get worse.
"We have to seriously consider alternative sources for our vegetable products," he said.
Meanwhile, Ayres stressed that the Simplot announcement could not be more serious, and failure to act immediately would cause the country to rely on imports.
"A flood of cheap imported food has hit the viability of homegrown products. Consumers need to step up and seek out Australian food if we want this industry to survive," said Ayres.
"We need to challenge the aggressive tactics of supermarkets, who boost their profits off home brand products made mostly from imported produce."
"Government also needs to come to the party with support for this important industry and policy settings that will allow it to thrive – including better labeling laws to make it easier for consumers to buy Australian."
According to Simplot Australia discussions are being scheduled with local, state and federal government representatives, as well as employees, unions, suppliers and growers to talk about profit improvement opportunities.