Siemens PLM Software has implemented a new application based approach to product release, simplifying how manufacturers adopt Teamcenter® software, according to a media release from the company.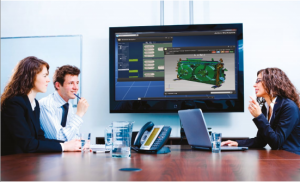 The company also announced the latest release of the Teamcenter platform, Teamcenter 10. The newest version of the Teamcenter software, which is part of the Siemens Product Lifecycle Management (PLM) system.
With Teamcenter 10, new customer and market driven solutions will now be available up to three times faster and users will be able to implement new applications without being required to upgrade the platform.
A number of transformational applications have been introduced over the past year and these can now be used with multiple versions of the Teamcenter platform, including Briefcase Browser for supplier integration, Substance Compliance for sustainability initiatives, Product Cost Management, providing visibility into cost throughout the product lifecycle, and a Quality Management with CAPA solution.
"Our separation of application releases from major platform updates significantly simplifies PLM implementation for our customers and is a game change in our market," said Eric Sterling, Senior Vice President, Lifecycle Collaboration Software, Siemens PLM Software.
"PLM customers need to be able to react quickly to changing demands. Our new approach to deliver targeted PLM applications that work across multiple versions of the Teamcenter platform will enable us to focus on developing applications that help transform our customers' businesses, and allows them to more easily take advantage of the latest and best in PLM. This approach provides customers a faster return on their PLM investment and gives them the agility required to stay ahead of their competition."
Among the benefits that customers can expect from Teamcenter 10 are the ability to manage mechanical, electronics, software and simulation data in a single environment, the ability to operate with ease in a multi-CAD environment and the means to validate design data before releasing to manufacturing.
Users will now be able to cross-probe and highlight design objects across domains and get faster clearance analysis with clear visual feedback. This efficiency contributes to improved user productivity and product quality. It also reduces costs that stem from part duplication and unapproved parts.
Aside from the innovations in the latest version, Teamcenter also plays an important and growing role in helping companies develop environmentally friendly products. The software can help users understand and control the material makeup of the products, and comply with environmental regulations created to limit the use of hazardous substances.
Teamcenter has also certified three of the leading cloud services to provide users with cost-effective access to enterprise-grade IT infrastructure and resources. Microsoft's Windows Azure, IBM's SmartCloud Enterprise+, and Amazon Web Services – have been certified to initially offer the IaaS platform to Teamcenter customers.
The software's new "Briefcase Browser" solution provides an easy-to-use tool for suppliers to share design data with OEMs, even if they don't use Teamcenter. It can run on a supplier's desktop and allow suppliers to view a product's structure, items, attachments and properties; launch a CAD model to NX™ software or a CAD-neutral JT Viewer; and update or create NX files that can be consumed by the OEM's Teamcenter system.
For more information about the latest release of Teamcenter, check out the updates on the Siemens PLM website.