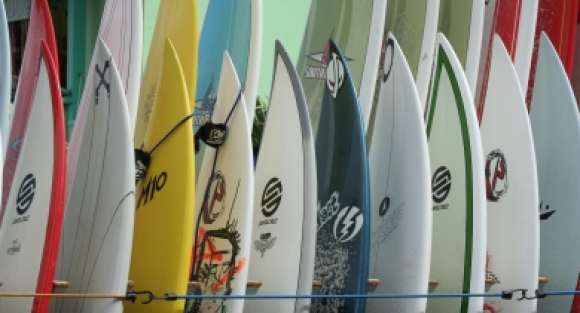 Turning frustration into innovation was exactly what Trevor and Nicolle Drake did. Trevor, a shipwright by trade and Nicolle, a design graduate established their own fitting business, Wood Appeal Pty Ltd. They moved their family to Manly Beach and purchased their son, Christopher his first skateboard. Christopher soon developed a passion for surfing and started his own collection of surfboards.
Frustrated by their son's lack of bedroom space, Trevor and Nicolle designed the very first set of SOLID racks, a solid surf and sport storage system. When Christopher was sponsored by O'Neill Australia, the couple gave a set of SOLID racks to Rob Bain. O'Neill Austalia loved the idea and SOLID Racks were formed.
Calling themselves "accidental entrepreneurs", Trevor and Nicolle are not only passionate in developing surf sport storage solutions, they are also dedicated in preserving Australian jobs. SOLID Racks is a division of Wood Appeal Pty Ltd. Their Brookvale, New South Wales factory manufactures high quality surfboard storage mounts, fishing racks, wetsuit racks and many more. Their products are endorsed by many World Surfing Legends such as Layne Beachley, Barton Lynch, and Todd Bradley.
SOLID Racks is an award-winning Australian business. Trevor and Nicolle was also NSW Testra Business Award 2010 finalist.
http://solidracks.com/index.php/
Image: Liz Noffsinger / FreeDigitalPhotos.net