3D printing could revolutionize the way parts are manufactured in different industries, says an engineer specializing in the technology.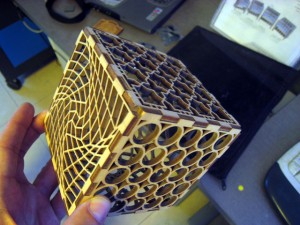 Mechanical engineer Simon Bartlett of Rapid Pro says that through 3D printing mining companies could produce their own parts on site and save time in the process.
"It's like Batman's utility belt, to get through his day he needs to be able call on a number of different technologies or a number of different tools," said Bartlett, quoted by ABC news.
"I think it's definitely a new tool and people are now just trying to work out how it fits in to what they do.
"So it's something that will definitely revolutionise the way we manufacture parts."
Exhibitors from all around Australia gathered in Mackay, QLD last week for the first dedicated Australian 3D Printing Expo. It is estimated that over 200 delegates from Mackay and surrounding areas attended the event along with sponsors and exhibitors from the 3D printing industry.
Back in January event coordinator Lila Clarke said the expo is the first to address the "radical impact of 3D printing in a range of industries including engineering, construction, architecture, manufacturing and health."
"What computing did for information in the virtual world, 3D printing and additive manufacture is now doing for manufacture in the real world," said Clarke in an article in Advanced Manufacturing CRC.
"3D printing is a technology that allows you to create real things in lots of different materials by building an object micro-layer by micro-layer. Even using inexpensive 3D printers, each layer can be as small as 0.1 mm – thinner than a sheet of paper."
"3D printing is about adding substance rather than removing it, whereas with laser cutting and CNC milling you are taking substance away. At the basic level, you can recreate objects layer by layer in plastic."
The other industry leaders who presented at the conference include CSIRO's John Barnes who discussed the organization's additive manufacturing strategy, Dr. Mark Hodge of the Defence Materials Technology Centre who tackled 3D printing in the defense sector, and Mitchell Beness from 3D Systems, who gave a review of current solutions and applications for 3D printing, focusing on a range of different industries and technologies.
Mr. Bartlett, who discussed the future of 3D printing and its sweeping applications, also delved into the health benefits that could be derived from the technology.
There is a huge possibility that human organs and body parts could be printed layer by layer using cells and stem cells.
"So whether it be in regeneration of hip implants, knees now, you can get customised knees," said Bartlett.
"For anything to do with the head you can go from scanned data now and instead of having something patched to sort of suit, you're actually getting something which does suit, a bit like Lego, than what it did in the past."