The Construction Forestry Mining and Energy Union (CFMEU) is urging political parties and candidates to support local jobs by committing to use Australian made paper for their campaign materials in the upcoming Federal election.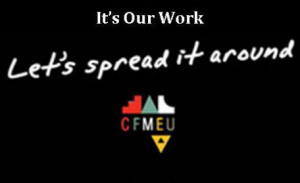 According to a media release the Union wrote to political party directors on Tuesday, furnishing them a list of Australian made paper products and asking them to signify their commitment to using Australian made products.
In turn CFMEU promised to publish the full list of candidates and parties that will commit to using Australian made paper products.
"The CFMEU supports all efforts to secure and create Australian jobs, and we note many politicians and political parties make frequent comment to the same effect," says the letter.
"To this end we are asking for your Party to take this simple practical step to demonstrate that commitment."
"We will publicise the responses to this request, both from local candidates and from party administrations, to our members, their communities and the broader public."
The letter, sent by CFMEU National Secretary Michael O'Connor on behalf of pulp and paper industry workers, coincides with the launch of a national campaign that urges the Federal Government to commit to buying more paper and paper products manufactured in Australia.
Last week CFMEU challenged Prime Minister Kevin Rudd to follow through with his pronouncement that Australia has a "big future" under his government. The Union is calling for immediate action from the PM to address the failed paper procurement policies laid out by the Federal Government, which according to CFMEU are currently discriminating against local producers.
As part of CFMEU's 'Let's Spread it Around' campaign, thousands of pulp and paper workers signed a petition demanding politicians from both parties to support procurement policies that will give Australian manufacturers of paper products a fair chance to compete with imported products.
The Government is the biggest purchaser of paper in Australia but several incidents have been uncovered pointing to some government offices choosing to go with imported paper products despite the competitive price of locally made products.
Mr. O'Connor says CFMEU is now giving every party and candidate the chance to show where they really stand in supporting manufacturing jobs.
"We're giving aspiring political representatives the chance to put their money where their mouth is by providing a tangible way that they can help support Australian manufacturing workers," Mr O'Connor said.
"The CFMEU will be ensuring that come election time, the public will be able to find out which of their local candidates committed themselves to buy Australian made, and who refused to do their bit to support Australian jobs."