Safety product company Enware Australia is celebrating its 75th anniversary, reaffirming its commitment to support Australian jobs and to maintain the high quality of its products.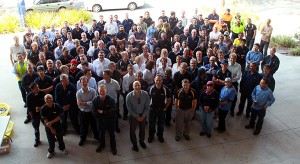 "It's tough out there for any business at the moment, there's no doubt about that, but Enware has stayed committed to quality, and keeping skills and jobs in Australia," says Enware Australia Executive Chairman Paul Degnan, in a media release.
"While many companies in the industry have moved offshore for lower costs, Enware has, as much as possible, committed to keeping core manufacturing skills and technology here."
The company manufactures specialist tapware, water management systems and water technology products for a number of sectors including healthcare, education, government and food preparation. It also produces a large range of emergency safety shower and eyewash equipment for industrial and commercial uses.
Enware also produced the only thermostatic mixing valves designed and manufactured in Australia which offers superior scald protection, along with water and energy-saving features.
The company's manufacturing plant is located in Caringbah, Sydney and it has also built an EPA-approved chrome plating plant to help maintain its quality standards.
"In the current global climate it is incredibly tough for Australian manufacturers to stay competitive. However, we pride ourselves on a strong design component, a special relationship with the end user and the understanding of their needs. Our products have a quality that they just can't buy off the shelf" said Mr. Degnan.
Leading Australasian and international companies use Enware systems in their facilities including McDonald's, Coles supermarkets, Qantas catering, Woolworths and Hungry Jack's. Medical institutions like St. Vincent's Hospital Sydney, Royal Brisbane Hospital, Royal Adelaide Hospital and Royal Prince Alfred Hospital also use the company's tapware and safety systems.
"Our 75-year history and the strong reputation of our core products for schools and hospitals have stood us in good stead. These health and education-oriented products, as well as our durable and reliable anti-vandal tapware are examples of our main Australian-made ranges"
"We believe our formula is one that is capable of international success, in and we are constantly seeking ways to advance our products across the world."