More than 800 locals from Burnie in Northern Tasmania have signed a petition urging multinational company Caterpillar to guarantee the future of its operations in the port city.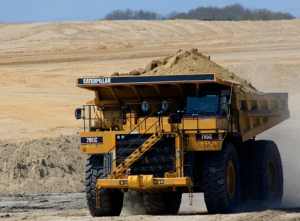 The grassroots campaign led by the Australian Manufacturing Workers' Union (AMWU) is seeking Caterpillar's assurance that it will not transfer its operations, despite the 150 redundancies that occurred earlier this year according to news on the Union's website.
Caterpillar Underground Mining has a factory that manufactures mining equipment in Burnie. The factory produced 400 giant trucks and loaders for the worldwide market last year.
The Burnie facility employs 368 people, and concerns that a closure could have a ripple effect in many jobs in surrounding areas have prompted members of the community to respond with enthusiasm to the petition.
AMWU delegate James Allen said Caterpillar has informed its workers that new, larger models would still be produced in Tasmania, but the manufacturing of small loaders and trucks will be moved to Thailand.
"What the workforce want is some certainty about this, we want a show of commitment and five to seven years is a realistic period," Allen said.
"If they go this part of the state could start to implode, people in skilled trades would have little option but to look to move interstate and that would really damage the other businesses left here."
According to AMWU, the petition will be formally presented to Caterpillar, State Parliament and Tasmanian federal MPs including Rudd Government Minister Julie Collins.
"We want the politicians in Canberra and Hobart to get on board, they talk about securing jobs but this is an opportunity for them to walk the walk."
Tasmanian State Secretary John Short said it is better to co-invest upfront to secure companies while there are still jobs and skills, rather than spending taxpayers' money re-training people after a company has gone broke.
"Caterpillar is one of Burnie's largest employers, it has a big supply chain across Tasmania, so the community needs some solid undertakings and plans over the coming five years rather than just verbal assurances it will stay," said Mr. Short.
He also said that a public meeting of concerned members of the community in Burnie is being planned, with the possibility of a separate manufacturing summit involving industry and political leaders happening in the future.
Concerns about Caterpillar's future in Tasmania have worried the locals, with ACL Bearing being in receivership since 2009 and Simplot reviewing its frozen vegetables operations.
Tasmania's unemployment rate has also reached its highest in a decade, coming in at 8.1 percent in June.