The Construction Forestry Mining and Energy Union (CFMEU) is considering the Government's policy change on Australian-made paper a major win for their "Let's Spread It Around" campaign.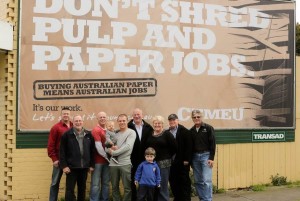 On Thursday it was announced that the paper produced at the de-inking and recycling facility being constructed in Maryvale will be eligible to be purchased by the Government.
"Without the change in policy, Federal Government Agencies would have purchased 100% of their office paper from overseas in the future at the expense of Australian jobs," says CFMEU in their media release.
The change in policy follows a Government review into the ICT plan which specifies the conditions that Government agencies must follow when purchasing paper. Under the new rules, waste paper from offices, printers, envelope plants and paper converters will be classified as "post-consumer waste", consistent with Australian Standards.
Instead of going to the landfill materials will be converted into paper by the Australian Labor Government and will be eligible to be bought by Federal Government Agencies, a move which, according to CFMEU, is actually a common sense result but a victory nonetheless.
The changes in the policy follow the relentless urging of CFMEU to the governments, asking them to support Australian made paper products.
On Tuesday two billboards were launched in Morwell carrying the message 'Don't shred pulp and paper jobs. Buying Australian paper means Australian jobs.'
The Government is the biggest purchaser of paper in Australia but several incidents have been uncovered pointing to some government offices choosing to go with imported paper products despite the competitive price of locally made products.
"Our union is working with pulp and paper workers around the country to seek bi-partisan support for improved procurement and standards policies to allow Australian manufacturers of paper products to compete with imported products on a level playing field," said CFMEU Pulp and Paper Workers District federal secretary Alex Millar.
As part of CFMEU's 'Let's Spread it Around' campaign, thousands of pulp and paper workers signed a petition demanding politicians from both parties to support procurement policies that will give Australian manufacturers of paper products a fair chance to compete with imported products.
Last month CFMEU wrote to political party directors furnishing them a list of Australian made paper products and asking them to signify their commitment to using Australian made products.
In turn CFMEU promised to publish the full list of candidates and parties that will commit to using Australian made paper products.