A new technology from carbon composites manufacturer Quickstep is set to revolutionize the global automotive industry with its innovative 'robotized' process that fully automates the production of lightweight carbon fiber composite car panels.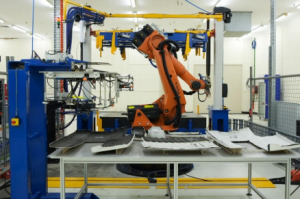 Quickstep's Resin Spray Transfer technology is now on the fast track to commercialization, according to the company's media release.
The RST technology, which was developed in Australia and is partly funded by the AusIndustry Climate Ready Grant, meets the industry's key manufacturing objectives. With RST, vehicle parts can be manufactured at high speed but at a low cost and with a high quality finish.
According to Quickstep, the use of lightweight materials in cars is increasingly becoming a battleground for car manufacturers which are driven by laws in the Europe and the US to reduce fuel consumption and carbon dioxide emissions.
"In the emerging emission-legislated world, every leading car manufacturer is aiming to develop cars that are lighter, more affordable and consume less fuel. This can be achieved using Quickstep's Resin Spray Transfer technology," says Quickstep managing director Philippe Odouard.
"We are delighted to have demonstrated RST's technical success by repeatedly manufacturing carbon fibre composite panels with our pioneering automatic plant in Sydney. It delivers car parts with a Class-A surface finish – without the need for the 're-work' that is commonly required with the manufacture of carbon fibre automotive panels."
Mr. Odouard says they plan to manufacture exterior parts and also license their technology, enabling car manufacturers to produce carbon fiber car panels with the strength of steel at half the weight. About two-thirds of the energy needed to move a car is determined by its weight so an ultra-light carbon fiber composites panel allows smaller engines and reduced fuel consumption.
Parts manufactured using the RST technology have already passed extreme environmental ageing tests for high-end "super cars", maintaining their surface finish and not showing any signs of "print through".
Quickstep is already pursuing large-volume production tests in cooperation with partners in Germany, including Audi.