Official results from the Australian Election Commission have tallied that Tony Abbott's Liberal-National Coalition has won 86 seats in the House of Representatives, beating the Labor Party's 57 seats and ending the latter's six year rule under Kevin Rudd and Julia Gillard.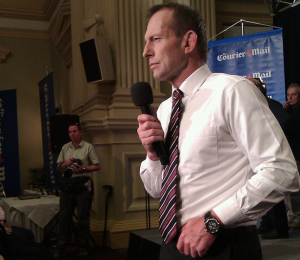 "I now look forward to forming a government that is competent, that is trustworthy, and which purposely and steadfastly and methodically sets about delivering on our commitments to you, the Australian people," said Mr. Abbott.
CNN reports that Rudd had phoned Abbott to concede defeat and wished him well in his upcoming role as prime minister of Australia.
In his concession speech Rudd accepted responsibility for the defeat, but also said it is time to be united in the great Australian nation, regardless of politics.
"This country which can manage its political differences peacefully and conduct the most vigorous of debates peacefully and resolve our politics peacefully and with civility, that is why this country is such a great country," said Mr. Rudd.
"I know that Labor hearts are heavy across the nation tonight. And as your prime minister and as your parliamentary leader of the great Australian Labor party, I accept responsibility."
"I gave it my all, but it was not enough for us to win."
Despite the loss, Labor has still held each of their seats in Queensland.
Meanwhile, ABC News reports that Prime Minister-elect Tony Abbott is already forming his new front bench team, confirming Joe Hockey will be Treasurer, deputy Liberal Party leader Julie Bishop will become foreign affairs minister and Nationals leader Warren Truss will become infrastructure and transport minister.
Ms. Bishop says the Coalition will be having a "very orthodox and methodical" transition of power, with frontbench positions to be finalised in the coming days.
"We are focussing on the immediate transition to Government so that we can get on with the business of implementing our policies and the promises we took to the election as soon as possible," Ms. Bishop said.
Ms. Bishop also said that whatever the Senate results may be, the incoming government has a mandate from the voters to implement its policies.
"There's no doubt that the election was a referendum on the carbon tax – one of our major policies is to repeal the carbon tax," she said.
Aside from the repealing of the carbon tax, the Coalition has also put forward a 'Real Solutions' plan which will build on the country's strengths, including in manufacturing.
Among the Coalition's promises are: repealing of the mining tax, 1.5% company tax cuts, reducing red and green tape by at least $1 billion a year, stronger anti-dumping laws, improved Fair Work laws and a review of competition laws. The party also promised infrastructure projects to build roads and transport corridors that are essential to manufacturing.
The Coalition has also announced further measures to deliver a sustainable future for manufacturing. Among them are the creation of a post for Minister of Trade and Investment whose primary responsibility would be to attract trade and inward investment into the country.
They will also restore funding to the Export Market Development Grants starting with an initial $50 million boost, and establish a $50 million Manufacturing Transition Fund which will provide assistance to communities and industries as they shift to new areas of manufacturing growth.
Read the entire policy to boost Australian manufacturing here.