Twenty businesses are set to benefit from a new round of grants courtesy of the Victorian Coalition Government's Investing in Manufacturing Technology (IMT) program.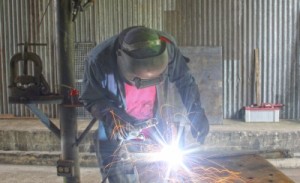 On Tuesday Minister for Manufacturing David Hodgett announced the beneficiaries of the funding which total $3.4 million to help companies invest in new technology and equipment in order to boost their productivity and global competitiveness.
"These new projects, supported by the IMT program, represent more than $15 million worth of investment in new technology, processes and equipment," said Mr. Hodgett during his visit to Lovitt Technologies Australia's (LTA) facility at Greensborough.
According to the media release, LTA will be receiving $250,000 to install a new machining centre which aims to boost exports by $1 million. LTA manufactures high-technology components for the aerospace, defence and general commercial sectors.
Mr. Hodgett said IMT delivers long-term benefits to Victoria as the projects that the program supports help deliver new skills, bring a range of innovative export opportunities, and generate at least 65 new jobs.
"Investment in technology and new processes is making Victorian manufacturing more productive and internationally competitive and is laying an innovative platform for launching increased capability for domestic and export markets," he said.
The IMT program is a key component of the Coalition Government's manufacturing industry strategy, A More Competitive Manufacturing Industry: New Directions for Industry Policy and Manufacturing.
"The strategy sets priorities to lift the productivity and competitiveness of Victoria's manufacturing industry and to foster key areas such as technology improvement," said Mr. Hodgett.
Aside from LTA, two other businesses have received grants worth more than $200,000.
Abey Australia Pty Ltd, a manufacturer of plumbing and building products, will be receiving $250,000 to buy high-tech equipment to boost their exports by $500,000 each year.
Meanwhile, $201,600 has been awarded to steel castings manufacturer KH Equipment Pty Ltd to purchase and install computer numerically controlled (CNC) lathes and shaft processing cells. The funding aims to help automate most of the component manufacture and boost KH Equipment's exports by $1.5 million.