Newcastle Batteries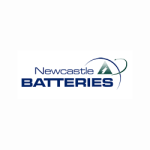 Newcastle Batteries are one of Australia's leading online battery providers providing a one-stop shop for all your battery, charger and accessory needs.
With warehouses in Wickham and Warners Bay, our business has grown from being a local expert provider to an expansive online store, offering our great product range and team expertise to customers across Australia.
Our team prides itself on offering the best advice possible to ensure you get the right battery you need and at the right price.
Give us a call to chat to one of our friendly team members, or if you're a local, drop into one of our warehouses today to see our large product range.
No matter what battery you need, Newcastle Batteries can help.