Ozfoodhunter.com.au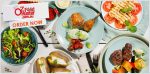 Food delivery and Takeaway in Australia, Order food online from accurate choice of local restaurants, pay online or cash get delivery & takeaway with 10% off.
Ozfoodhunter is an online food ordering website providing services in all over Australia. We advance conveyance of food ordering online, be it delivery or take away services in the computerized age, offering our customers a quick and easy way to find their most loved food effectively and conveniently from home, work or anywhere in Australia in just a few clicks.
Use Ozfoodhunter to ORDER FOOD ONLINE at 1000+ restaurants around Australia.
It's so quick and easy to SEARCH and find YOUR favourite restaurant in on time.
Different SPECIAL OFFERS, PROMOTIONS and DISCOUNTS.
Ability to view most popular and top rated CUISINES and RESTAURANTS.
We have more than 50 representatives all over Australia, with 20+ staff members working at Ozfoodhunter. We work as a family with the mission to give our customers a quick and simple way to Order your most loved foods for delivery and take away choosing some of the best restaurants in your area.