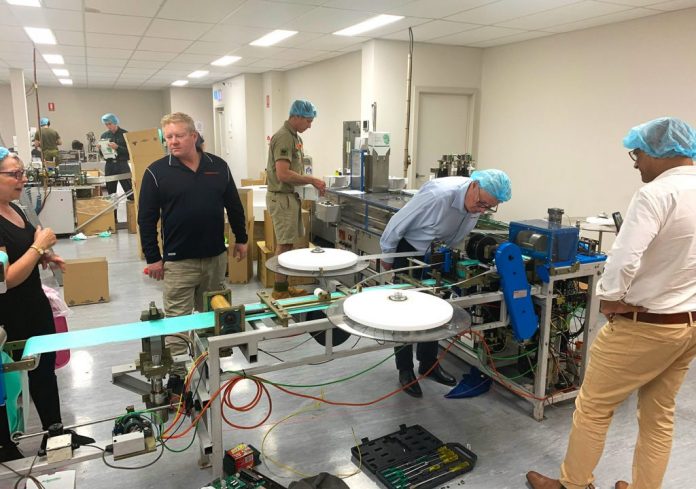 Defence has concluded its support to Med-Con Pty Ltd, Australia's only surgical face mask manufacturer, having significantly increased production at the facility.
Based near Shepparton, Victoria, Med-Con had been instructed by the Department of Industry, Science and Technology to immediately increase production from 2 million to 50 million surgical masks a year.
However, the company was unable to operate at full capacity as only two of its three mask-making machines were operational.
Because these machines were designed and built nearly 40 years ago, and no original drawings were available to reproduce them, the Department of Defence was forced to dispatch a team of ADF engineers to disassemble and model the non-operational Med-Con machine.
Packaging automation manufacturer and integrator Foodmach was subsequently appointed to engineer and build the machines due to the company's experience, capabilities and resources.
Defence Minister Linda Reynolds said 2.6 million surgical masks were produced during the ADF's support.
"Prior to the ADF providing support, the company, which was Australia's only producer of the masks, was making around two million per year," Minister Reynolds said.
"Now, thanks to the ADF, Med-Con has significantly increased its production, and is currently capable of making up to 50 million masks per year with plans to increase this to 200 million per year."
Med-Con Director Ray Stockwell said ADF's support was critical to the successful increase in production.
"Our estimate to bring the broken machine back to life was around 12 weeks," Mr Stockwell said.
"The ADF personnel did it in less than two, and at the same time completed a series of engineering drawings to aid with the manufacture of future machines."
Image provided