Ford is celebrating the 100th anniversary of its assembly line with a goal to increase worldwide production by one-third to 8 million vehicles annually by 2017. This basically requires all of its plants to produce on average four different models each.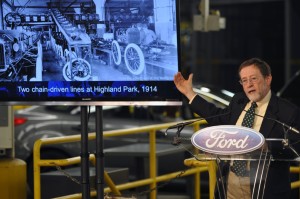 The plan represents Ford's largest manufacturing expansion in 50 years. Eight new assembly plants and six new powertrain plants will be operating to support the company's growth and retain approximately 130,000 manufacturing jobs around the world, according to a media release from the company.
"One hundred years ago, my great-grandfather had a vision to build safe and efficient transportation for everyone," said Ford Executive Chairman Bill Ford.
"I am proud he was able to bring the freedom of mobility to millions by making cars affordable to families and that his vision of serving people still drives everything we do today."
On October 7, 1913, Henry Ford and his team launched the first moving assembly line at Highland Park, an innovation ahead of its time which would prove to be one of the world's greatest contributions to manufacturing. Ford simplified the assembly of the Ford Model T's 3,000 parts by breaking it into 84 distinct steps performed by groups of workers as a rope pulled the vehicle chassis down the line.
The process revolutionised production and dropped the assembly time for a single vehicle from 12 hours to about 90 minutes. A reduction in assembly time also meant a drop the price of the Model T from $850 to less than $300, making a quality vehicle now available to the masses.
"Ford's new approach spread rapidly, not only to other automakers but also to manufacturers of phonographs, vacuum cleaners, refrigerators and other consumer goods," said Bob Casey, former curator of transportation at The Henry Ford, and author of The Model T: A Centennial History.
"The assembly line became the characteristic American mode of production."
By 2017 virtually all Ford vehicles will be built off nine core platforms, down from the 15 it uses today. The move will boost the car manufacturer's efficiency, while still giving customers the features, fuel efficiency and technology they want, from anywhere in the world.
As the company steps into the next century of its production, it has already realized the benefits of advanced manufacturing technologies and how these will shape the future. Ford is developing a first-of-its-kind, patented technology known as  Ford Freeform Fabrication Technology, or F3T which will  lower costs and speed delivery times for prototype stamping molds.
Ford is also expanding its 3D printing capabilities with which it can create multiple versions of one part at a time and deliver prototype parts to engineers for testing in days rather than months.
In terms of robotic innovations Ford has its dirt detection system which uses robotic vision to create a digital model of each vehicle in final assembly. This will analyze paint and surface imperfections in comparison with a perfect model.
"Technologies such as 3D printing, robotics and virtual manufacturing may live in research but have real-world applications for tomorrow and beyond," said Paul Mascarenas, chief technical officer and vice president, Ford Research and Innovation.
"We use Henry Ford's spirit of innovation as a benchmark for bringing new technologies into the manufacturing process."