Twenty-five new jobs will be created as STR Inspection Services diversifies its business and builds a highly-skilled workforce with the help of a $200,000 grant from the Victorian Coalition Government's Latrobe Valley Industry and Infrastructure Fund.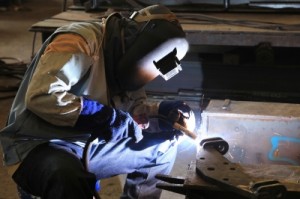 Deputy Premier and Minister for Regional and Rural Development Peter Ryan, together with Member for Morwell Russell Northe made the announcement in Traralgon on Friday. The grant is the Coalition Government's contribution towards the $515,000 STR Business Diversification Project. The Latrobe Valley Industry and Infrastructure Fund is part of the Coalition's Regional Growth Fund.
STR services the manufacturing, construction, processing and engineering industries, offering a comprehensive package which includes Pressure Equipment and Storage Tank Inspection, Weld Repair Procedure Development and Supervision of Repairs to Pressure Equipment, Pressure Pipes and Storage Tanks.
According to the media release, the diversification project will allow STR to create a new Non Destructive Testing business unit that will support its core operations.
"STR will purchase specialist x-ray and gamma radiography sets and ultra-sonic testing equipment to establish the unit, which will give it the certification to complete end-to-end business services to its customers," Mr. Ryan said.
"The company will also establish itself as a Registered Training Organisation to up-skill junior and mature aged apprentices throughout Gippsland, addressing a recognised skill shortage."
Mr. Ryan added that the project will help the company generate additional revenue of $4.5 million annually, while contributing $3 million to the local economy through the purchase of additional local services.
Mr. Northe also welcomed the project and said it is another example of the Regional Growth Fund helping Latrobe Valley businesses to grow and creating more jobs and better career opportunities.
"The Regional Growth Fund, through the Latrobe Valley Industry and Infrastructure Fund, is helping Latrobe Valley companies reposition themselves for sustainable long-term growth," Mr. Northe said.
"Since it was established in early 2011, the Regional Growth Fund has provided more the $340 million to support almost 1,200 projects across regional and rural Victoria, leveraging almost $1.5 billion in total investment."
"Across the Latrobe City, almost $16 million has been allocated from the Regional Growth Fund to support 48 projects, leveraging a total investment of $47.5 million."