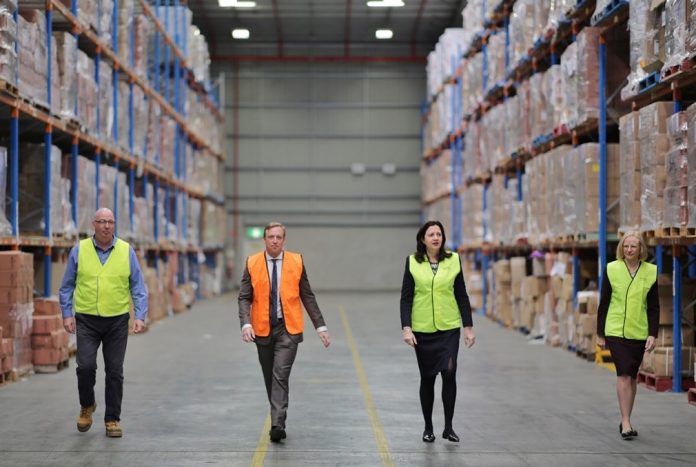 Premier Annastacia Palaszczuk announced today that the government will boost Queensland's supplies of personal protective equipment by tens of millions of pieces through a newly expanded bulk storage site at Inala.
In a statement Ms Palaszczuk said the expanded site at Inala will ensure that the state will have space and continue to have enough critical supplies of PPE for healthcare workers who play an essential role in keeping Queensland communities safe.
"This storage site will feed into our distribution centres, where collectively we have in excess of 100 days of supply of key PPE items – including more than 900 days of surgical masks, more than 200 days of medical gowns, and close to 300 days of gloves."
"We initially set up the storage site early in the pandemic at Inala as an overflow facility in response to the growing demand for PPE, and it's now being expanded by 50 per cent."
"The original site is currently holding approximately 120 million pieces of PPE across 9,500 pallet spaces, including those all-important items such as surgical masks, gloves and protective eyewear," the Premier said.
From early September the facility will add an extra 4,500 pallet spaces and is expected to increase storage to around 180 million pieces of PPE.
Meanwhile Deputy Premier and Minister for Health and Minister for Ambulance Services Steven Miles said the newly enlarged storage site would add to already existing distribution centres and regional warehouses across the State. However he warned that Queenslanders still have to remain vigilant and prepared, given that the virus has the potential to rapidly re-emerge.
"The storage site at Inala is part of our strategy to boost Queensland's PPE storage capacity and further reinforces Queensland's strong position."
"This is about ensuring we have more secure supplies as a state and that all our frontline workers have access to the necessary supplies and equipment to keep them safe, support their work for the community and enable them to continue to deliver the outstanding services that they provide."
"The COVID-19 pandemic highlighted the global critical stock shortages of PPE, the vulnerabilities of supply chains and the importance of having access to sufficient stock."
Mr Miles said it is fortunate that Queensland has not experienced the critical stock shortages realised by other healthcare providers across the world.
"This is due to our strong response to keep case numbers low, supply chain planning and ability to store significant volumes of PPE in distribution centres and regional warehouses across the State."
As of midday today Queensland has not reported any new cases of COVID-19 in the last 24 hours. The state currently has 7 active cases, and there are no patients currently in intensive care.
Watch a video of the PPE Warehouse here.
Image from Queensland Government