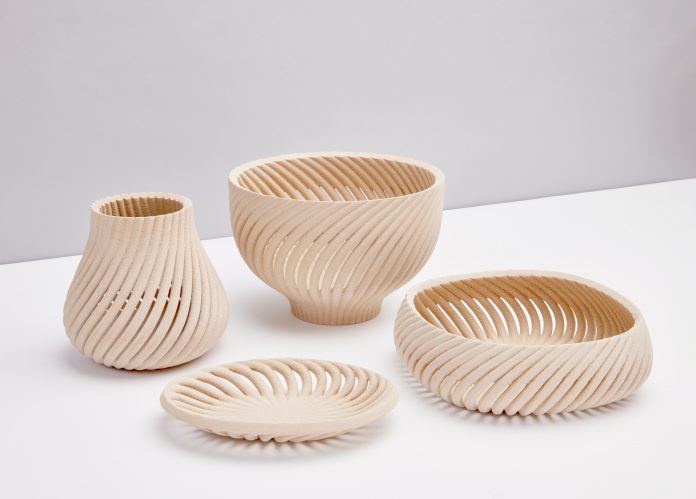 Desktop Metal has launched a new additive manufacturing process that sustainably produces functional end-use wood parts by upcycling waste byproducts from wood manufacturing and the paper industry.
Using Desktop Metal's patented single pass binder jetting 3D printing technology, the Forust process combines two waste streams from traditional wood production, sawdust and lignin, to sustainably produce isotropic, high-strength wood parts.
Unlike particle board or laminate, Forust produces a wooden part with a digital grain that flows throughout the entire part which can then be sanded or finished and has the ability to digitally reproduce nearly any wooden grain, including rosewood, ash, zebrine, ebony and mahogany.
The Forust process was developed by ceramics 3D printing pioneer, Andrew Jeffery, with co-inventors and creative consultants in industrial design, Virginia San Fratello and Ronald Rael, both of whom are founding partners of 3D printing company, Emerging Objects.
"The inspiration for Forust was to begin with sawdust and end with forests," said Jeffery.
"Our process is based on extensive research conducted over the past decade in the field of hardwood lumber, leading to complex and elegant finished structures.
"Through advanced CAD software, proprietary materials and Desktop Metal binder jetting mass production platforms, we can now manufacture beautiful, functional and innovative wood products for a variety of architectural, interior, and home goods applications from upcycled wood byproducts."
Ric Fulop, Founder and CEO of Desktop Metal, said applications for Forust's wood parts were 'limitless'.
"There are many applications where polymers and plastics are used today where you can now cost-effectively replace with sustainably manufactured wood parts – luxurious, high-end components in interiors, consumer electronics, instruments, aviation, boats, home goods and eventually in flooring and exterior roofing applications," Mr Fulop explained.
"For the first time, we can produce beautiful parts with the same durability and characteristics you would have in traditionally manufactured wood, but printed using upcycled materials which does not require cutting down or harvesting trees.
"With Forust, we have the opportunity to have a meaningful impact on sustainability, climate change and waste issues that we as a humanity have brought to the planet. For each tree saved, we are reducing the carbon footprint by a metric ton over its lifetime."
Image credit: https://www.businesswire.com/news/home/20210506005551/en/