Bombardier Inc. signed a deal last month to sell five Q400 NextGen aircraft for US$160 million to airline leasing company GE Capital Aviation Services (GECAS).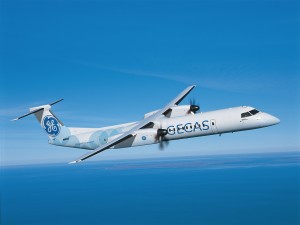 GE will have the option to purchase an additional 10 aircrafts. If the option is exercised, the value of the deal will be worth a total of US$448 million, the company revealed in a press release.
"As we continue to grow our leasing fleet, we are pleased to be adding up to 15 more Q400 NextGen aircraft. We have seen a growing demand for turboprop aircraft worldwide and the Q400 NextGen aircraft is ideally positioned to meet the needs of regional airlines now and in the future. Our customers value the performance, operating efficiency, and flexibility that this aircraft provides," said Norman C.T. Liu, President and CEO, GECAS.
"We are delighted that GECAS has chosen to acquire additional Q400 NextGen aircraft. With the world's largest leased commercial aircraft fleet, GECAS' continued acquisition of the Q400 NextGen turboprop is a strong endorsement of the value, in-service performance and reliability the aircraft provides," said Mike Arcamone, President, Bombardier Commercial Aircraft.
Including the GECAS order, Bombardier has booked firm orders for a total of 519 Q400 and Q400 NextGen aircrafts.
The Q400 NextGen aircraft is a large, fast, quiet and fuel-efficient turboprop optimised for short-haul operations and capable of seating up to 86 passengers.
Bombardier is the world's only manufacturer of both planes and trains. For more information about the company, visit their website at www.bombardier.com