Following the announcement that it has completed keel laying for two 72 metre High Speed Support Vessels (HSSVs) for the Royal Navy of Oman, Austal announced that it has launched the sixth in-series Cape Class Patrol Boat (CCPB) at the company's Australian Defence Facility in Henderson, Western Australia.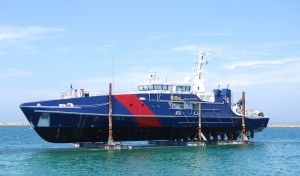 Austal Australia was contracted to design, construct and provide through-life support of eight 58 metre Cape Class patrol boats for the Australian Customs and Border Protection Service in August 2011.
Under the terms of the agreement, valued at approximately $330 million, all boats should be completed and operational no later than August 2015.
With this month's launch of Cape Leveque, Austral is on target to achieve full vessel completion and sea trials prior to the official naming ceremony and final delivery to ACBPS.
"The launch of Cape Leveque, again in accordance with a demanding production schedule is great testament to the productivity and efficiency of our workforce. The CCPB Program continues at pace and continues to demonstrate Austal's capabilities of delivering in accordance with requirements on time and on budget. This capability is an important component of Austal's strategy of being the partner of choice for Governments and competitive global Defence Prime Contractor that designs and constructs maritime assets, integrates systems and provides ongoing and effective through life support 24/7," commented Austal Australia President Graham Backhouse.
The remaining three Cape Class vessels are at various stages of construction and will be delivered progressively through to end of 2015.
Austal is a global defence prime contractor and a designer and manufacturer of defence and commercial ships.
The company is also prime contractor for three major defence Programs: the Littoral Combat Ship (LCS) and Joint High Speed Vessel (JHSV) Programs for the United States Navy and two High Speed Support Vessels (HSSV) for the Royal Navy of Oman.