The Bridgestone Group, the world's largest manufacturer of tyre and rubber products, has opened a global centre for tyre excellence in Australia to better support the economically-vital mining sector both in the country and overseas.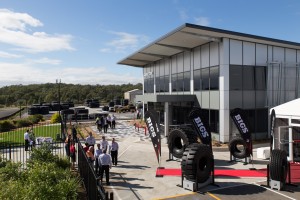 The Bridgestone Institute Global Mining Solutions (BIGS) was officially launched on Thursday at Mt Thorley, outside Newcastle, NSW, in the presence of special dignitaries from Bridgestone Japan, including Mr Mitsuhira Shimazaki, Vice President and Senior Officer International Tyre Business Operations; and Mr Tomohiro Fukuda, Vice President and Officer Specialty Tyre Business and CQO, Specialty Tyre Business.
The Institute's Managing Director Tsuyoshi Kamiya said BIGS represented the mining industry's first worldwide research and development hub dedicated to developing high-quality, total solution packages.
"We could have established BIGS anywhere in the world, but Australia's first-class resources and construction sectors make it an excellent location for us to develop the new technology and new integrated service packages to help reduce operating costs and downtime for our mining, construction and earthmoving clients," Mr Kamiya, said in a press release.
"This is the first time anyone in the tyre sector has attempted this, but Australia has the mining, construction and earthmoving technology, the qualified personnel and the infrastructure to make BIGS a huge success."
BIGS will use data and concepts collected from Bridgestone's global network of tyre production facilities and distributors to not only create the next level of industry-specific tyre technology, but also act as a training hub to ensure its service solutions can be reproduced in any location around the world based on consistency of quality and expertise within these areas.
Tyres are a vital component for ensuring production and safety in the resource and construction sectors, but are also presenting these industries with an on-going cost and maintenance issue as they can be responsible for a significant component of a company's operating costs.
To prolong the life of the tyre and save its customers' valuable time and money, Bridgestone is not just focusing on the quality of its tyres, but also on improving the quality of support services to ensure a tyre has every opportunity to meet its maximum work-life.
"BIGS will not just be looking at the tyres, but at the tyre's entire lifespan – from design, fitting, maintenance and inspection through to on-site servicing and engineering, rim management, repair, retreading and disposal," Mr Kamiya said.
BIGS was established as a subsidiary of Bridgestone Earthmover Tyres and is located in the Hunter Valley for easy access to the region's coal mines while still being relatively close to Sydney for international visitors.
The Institute is expected to employ a number of specialists in the coming years, and host dozens of trainees every year.