Austal Limited has announced that the USNS Trenton – the fifth Joint High Speed Vessel (JHSV) built by the company at its shipyard in Mobile, Alabama – has been successfully delivered to the US Navy as part of the 10 ship, US$1.6 billion contract.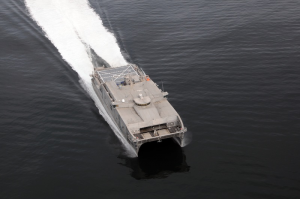 Austal Chief Executive Officer Andrew Bellamy said the delivery of USNS Trenton to the US Navy was a testament of the significant progress the company has made through operational improvements at their US shipyard since construction commenced on the JHSV 1.
"The JHSV program continues to mature with each successful delivery," Mr Bellamy said in a statement.
"We have received many positive reports about how the first four JHSVs have been performing in the fleet, and we are encouraged about the future of the JHSV program."
Under the contract, Austal is to deliver further five JHSV from its shipyard at Mobile, Alabama, three of which are currently under construction.
Since delivery of the JHSV 1 – the USNS Spearhead – Joint High Speed Vessels have supported US defence operations in European, African, South and Pacific command areas of responsibility.
In the meantime, Austal is also building seven littoral combat ships (LCS) – all at various stages of construction – at its shipyard in Mobile, Alabama, under a 10 vessel, US$3.5 billion contract with the US Navy awarded in 2010.
Austal is a global defence prime contractor and a designer and manufacturer of defence and commercial ships. The company has delivered more than 250 revolutionary ships for Governments, Navies and Ferry operators around the world in the last 25 years.