Safe Work Australia will be opening the Safety First Conference on 26 May with an update on their strategies to prevent future work-related deaths, injuries and illnesses.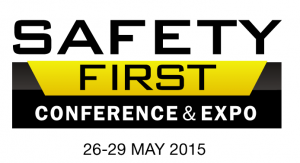 Recent data from Safe Work Australia shows the manufacturing industry had the second highest rate of serious workers' compensation claims of any industry in Australia, with some manufacturing sub-sectors, like fabricated metal product manufacturing, posting rates four times as high as the Australian average.
Running alongside National Manufacturing Week (May 26-29), the Safety First Conference & Expo will provide visitors with a rare opportunity to gain an insight into the work of Safe Work Australia and its member organisations.
Safe Work Australia CEO Michelle Baxter will open the event with her keynote address "Update on the future direction of Safe Work Australia and the Australian Work Health and Safety Strategy 2012–2022″.
"We have made huge gains over the last 30 years. The number of work-related traumatic fatalities each year has more than halved and the number of serious claims has also decreased dramatically, but there is more we can and should do if we want to reduce the huge personal, social and economic costs of work-related injury, disease and death," said Ms Baxter.
"The Australian Work Health and Safety Strategy 2012–2022 (the Australian Strategy) is key to our efforts to drive further improvements in health and safety over the coming years."
According to the press release by Safe Work Australia, the Construction and Manufacturing industries will be a specific focus of its second Australian Strategy Virtual Seminar Series (VSS) during National Safety Month in October this year.
The Series will showcase the latest thinking, developments and research in work health and safety and feature panel discussions, video presentations, reports and infographics from work health and safety experts, regulators, business leaders and academics.
"We realised that to provide relevant information to businesses and community leaders we needed to move at their pace and with innovative approaches. This is why we launched the VSS during Safety Month in October 2014. The VSS provides live webinars, case studies and opinion pieces by credible voices. It is accessible to anyone, at any time, and anywhere, streamed to mobile devices and workstations across the country," Ms Baxter said.
"It is a very important time for Safe Work Australia as we see our strategy achieving measurable improvements in work health and safety and new approaches being successfully implemented. I look forward to sharing more about some of the big issues in work health and safety and how we are tackling them at the Safety First Conference in May."
Entry to Safety First Expo is free for safety professionals from all industries looking to make valuable contacts and gain practical ideas for enhancing workplace safety.
Click here to register for the Safety First Conference and Expo.
Click here to register for National Manufacturing Week.