The Abbott Government announced it will seek tenders from suitable companies to oversee the remainder of the Air Warfare Destroyer (AWD) project after a forensic audit released on Friday revealed the program will run about $2 billion over budget and be nearly three years late.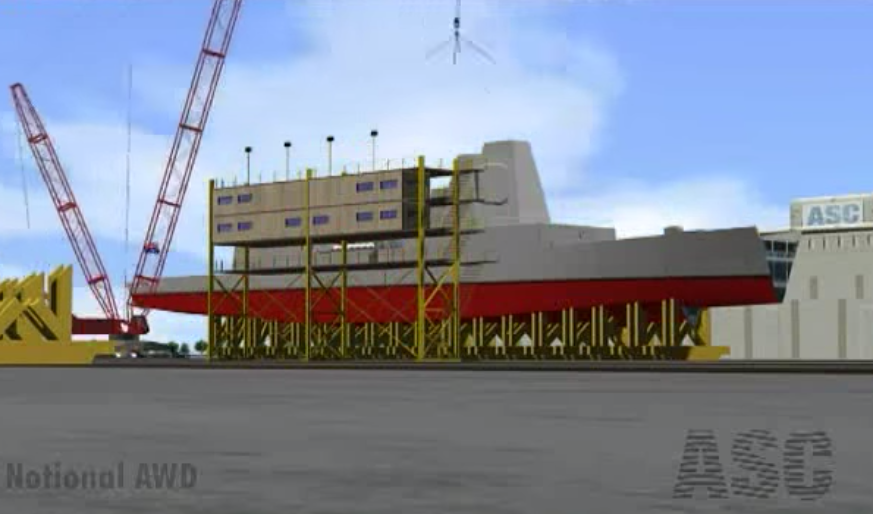 The report showed that at least an additional $1.2 billion will be required to complete the troubled shipbuilding project, with the long delay of more than 30 months for each boat likely to generate substantial additional costs because of the necessity to keep ageing FFG destroyers in service beyond the dates that they were planned to be scrapped.
The first of the AWDs, New Ship Hobart, was floated off on in Adelaide on Saturday, even though it was originally scheduled to be delivered in December 2014. The revised estimate showed it will not be delivered until June 2017 at the earliest, with the delivery date for the second ship now moved to September 2018 and for the third ship – March 2020.
According to the joint press release by the Department of Defence Ministers, the Government will begin a limited tender process on 29 May 2015, seeking proposals to either "insert a managing contractor into ASC for the remainder of the AWD build" or to "further enhance ASC capability through a partnering arrangement".
Victorian Minister for Industry Lily D'Ambrosio welcomed the Abbott Government's announcement for a limited tender, saying it represented a great opportunity for the Victorian shipbuilding industry, through BAE Systems, to make a greater contribution to defence manufacturing.
She said the company was ideally placed to take a leadership role in fixing the AWD project and manage a fair reallocation of work from the Adelaide shipyard to Williamstown.
"We welcome the Commonwealth's announcement that Victorian businesses can compete fairly to oversee the Air Warfare Destroyer project," Ms D'Ambrosio said.
"We urge the Abbott Government to expedite consideration of the tender process as a way of guaranteeing work for at the Williamstown shipyard and securing Australia's shipbuilding capability."
She said the Labor Government will work closely with Victoria's defence businesses to bid for the AWD oversight project, adding that the Victorian shipbuilding industry had already played a pivotal role in the construction of the Hobart with around 30% of the worship components built by Victorian supply chain businesses.