The European Space Agency (ESA) and Australia's leading research organisation CSIRO have inked a collaboration agreement which will give Australia better access to information from Europe's Earth-observing satellites, while ESA will benefit from Australia's scientific research.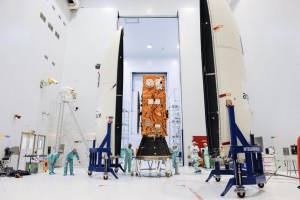 According to the news release by CSIRO, the deal was signed at the Paris Air & Space Show, the world's premier and largest event dedicated to the aviation and space industry.
Scientists from Australia and Europe will now join forces to develop new applications and space technologies for future satellites.
"The collaboration with the European Space Agency further strengthens Australia's ability to do world class research and innovation, and also strengthens our global position in the space economy," said CSIRO's Executive Director of National Facilities and Collections Dr David Williams, who signed the agreement for CSIRO.
"Currently there are over 100 Australian government programs and hundreds of researchers relying on data from foreign satellites, making Australia one of the largest users world-wide of Earth observation data."
ESA's Director for Earth Observation Programmes, Prof Volker Liebig, said the agreement is set to boost cooperation with Australia and strengthen scientific links and stimulate industrial opportunities.
"We expect this agreement will also stimulate new scientific collaborations with European partners, and help identify where Australian scientists can support Europe's €80 billion 'Horizon2020' science and technology program," added Dr Alex Held, a Group Leader and expert in Earth observation at CSIRO.
"This agreement is likely to also create new opportunities for partnerships between CSIRO, the Australian space-industry and the European space-sector on future space hardware, services and sensor development."
Australian Ambassador to the European Union, Dr Mark Higgie, said that the signing of the agreement recognises the value of Australian – European collaboration in Earth observation technologies and applications.
"This is a most welcome development which will open pathways for further leading-edge development between researchers and industries in Australia and Europe. This agreement highlights yet another important element in the rich web of co-operation between us," he said.