3D Systems has announced that it has been selected by the US Air Force to take part in a $1.3 million contract to 3D print next-generation aircraft heat exchangers.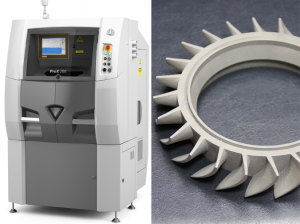 The project – led by Honeywell International, a leading manufacturer of heat exchangers – is set to begin in a few months and it will utilise 3D Systems' Direct Metal Printing technology and the additive manufacturing and materials expertise of Penn State's Centre for Innovative Materials Processing through Direct Digital Deposition (CIMP-3D).
"Additive manufacturing offers design freedoms that are simply not possible using traditional manufacturing process," said John Wilczynski, America Makes Deputy Director of Technology Development, in a media release.
"The teaming by America Makes with industry leaders and researchers that possess substantial experience in heat exchangers and 3D printing will allow us to explore higher-performing and lower-cost conformal parts. As a result, both the Air Force and the defence industry are poised to benefit greatly from this directed project."
The contract – administered by America Makes and funded by the Air Force Research Laboratory (AFRL) – underscores 3DS' technological leadership and proven defence/aerospace manufacturing track record.
"3DS' Direct Metal Printing technology is second-to-none," said Neal Orringer, Vice President of Alliances & Partnerships, 3DS.
"This contract selection will allow our team to deliver to the Air Force innovative, high-performing heat exchangers, and will provide valuable data on part strength, pressure resistance and performance."
The project builds on another contract announced in February to enable wider adoption of 3DS' metal technologies within aerospace companies. 3D Systems was awarded two research contracts worth over $1 million, to develop advanced aerospace and defence 3D printing manufacturing capabilities "at a convincing scale". These contracts were also administered by America Makes and funded by AFRL and leveraged 3DS's Selective Laser Sintering and Direct Metal 3D Printing capabilities to meet the high standards of production demanded by the US Air Force.