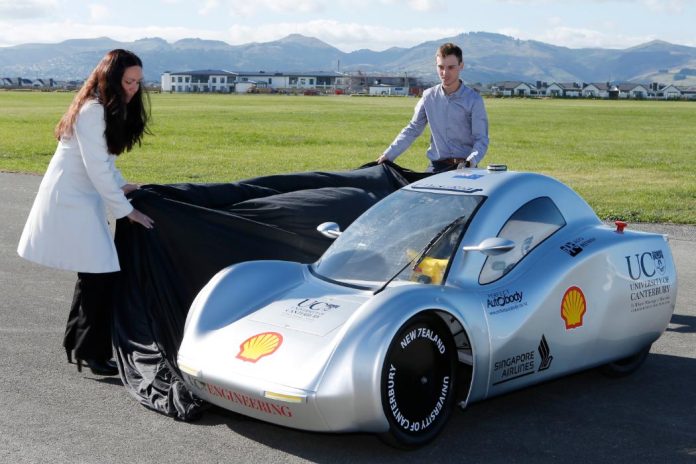 University of Canterbury students have unveiled the world's first 3D printed titanium internal combustion engine ahead of the international Eco-marathon competition in Singapore which kickoffs on 8 March.
The engine and the single-sitter car will compete in the 2018 Shell Eco-marathon Asia in Singapore, which attracts over 100 teams from institutes across the Asia-Pacific region.
The team's 2018 entry builds on their 2017 effort which was created out of 100% recyclable, vacuum-formed thermoplastic and won them the Design Award for the car.
UC's Eco-marathon student team leader Robbie Murray said the new entry uses the car body form their 2017 effort, and is powered by carbon neutral, sustainable ethanol.
We're excited to show our car to the world and put New Zealand on the map in Singapore this year," Robbie added.
"Over the past year, the team has worked incredibly hard to produce not only a competitive vehicle, but one that demonstrates fresh and forward-thinking ideas. We want to define who we are as New Zealanders, and our drive to create bold and innovative solutions to the problems with which we are faced."
"Our main focus has been on the development of our own 3D-printed single-cylinder internal combustion engine. The development of our own engine purpose-built for efficiency offered a challenging yet rewarding goal."
The Eco-marathon aims to encourage the development of energy efficient cars and to stimulate ideas about meeting the world's energy needs in a responsible way.
The competition does not aim to to break speed records or be the first to finish, and focuses on energy efficiency and environmental sustainability instead.
The UC Eco-marathon car is designed to travel a distance of about 135km using only 330ml of fuel – which is the fuel tank's capacity – or about 400km per litre of fuel.
Image credit: www.canterbury.ac.nz/news