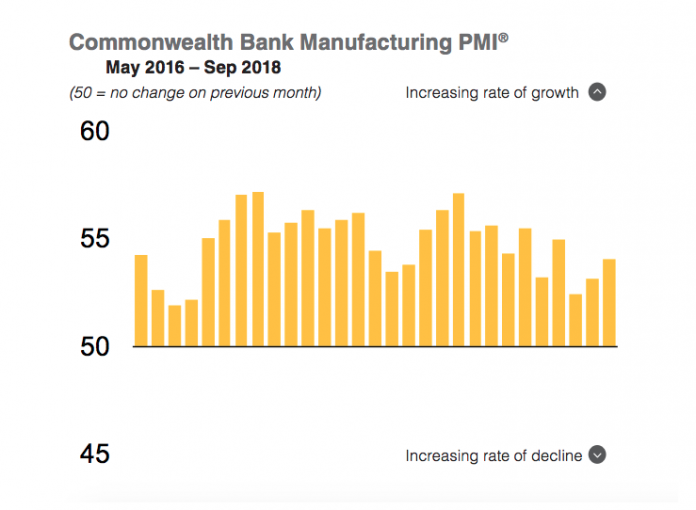 The CBA Manufacturing PMI rose from 53.2 in August to 54.0 in September, indicating something of a recovery from recent lows.
Although the September PMI reading points to a healthy result for manufacturing activity, the rate of expansion remains relatively soft so far in the September quarter, even if the sector improved at the greatest pace since June.
The research has found that new business increased at the fastest rate since April, encouraging stronger growth in production.
"Australian goods producers observed favourable inflows of new work during September. New business increased strongly and at the fastest pace since April amid reports of greater demand from both new and existing clients," it says in the report.
"Growth in sales to overseas markets was also recorded in September. In response, firms raised production solidly and at a quickened clip. The rate of increase was notably stronger compared to those in July and August."
The report, however, notes that backlogs of work were accumulated as firms raised employment only mildly. Input buying and stockpiling were also raised to cater for additional workloads, despite a further lengthening of supplier delivery times.
"To accommodate for greater workloads, input buying increased in September. Anticipating further improvements in demand, firms raised their stocks of items for production purposes to the greatest extent in nine months," reads the report.
"That said, supply chains were squeezed by higher input requirements, with delivery times lengthening further. The ability of Australian manufacturers to fulfil orders was tested by the combination of longer input delivery times and stronger inflows of new business."
Survey data also pointed to sharp input cost and output price increases in September, with panellists indicating that weakness in the Australian dollar had exacerbated raw material price rises.
CBA Senior Economist Gareth Aird said business confidence remained strong in September, with 61% of panellists anticipating higher production in a year's time.
"A healthy result.  PMI readings have climbed higher over the past two months despite some concerns globally emanating from US trade policy," he said.
"Output has accelerated over the September quarter and the trend is encouraging.  The slowdown in hiring looks like a natural response to the big lift in employment earlier in the year."
"The lower AUD continues to put upward pressure on input costs, as do rising new material costs.  But firms have been able to lift output prices in response which indicates robust aggregate demand."
Image credit: www.commbank.com.au