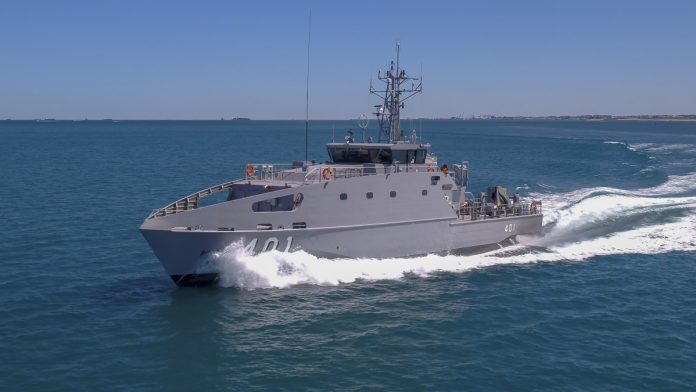 Australia has officially handed over the first Guardian Class Patrol Boat (GCPB) to the Papua New Guinea (PNG) Government.
Designed and built by Austal in Western Australia, the new 39.5 metre steel hulled patrol vessel is the first of four new boats to be gifted to PNG as part of the Pacific Patrol Boat Replacement project.
The project, which was awarded to Austal in May 2016, will see the shipbuilder deliver a total of 21 new vessels to 12 Pacific Island Countries and Timor-Leste, in a deal valued at $335 million.
Defence Minister Pyne said the boat will be commissioned HMPNGS Ted Diro on return to PNG and is named after the first Commander of the PNG Defence Force post-independence.
"The Ted Diro handover marks the start of the maritime element of the Morrison Government's commitment to the new Pacific Maritime Security Program," the Minister noted.
"The new vessels replace the current Pacific Patrol Boats, operated by 12 participating nations, and will provide each nation with enhanced abilities to conduct maritime surveillance and law enforcement operations."
Austal CEO David Singleton said the company is looking forward to showcasing the new vessels to the other Pacific Island nations over the life of the 21vessel program through to 2023."
"Over the past six weeks, we have had the Ted Diro crew from the PNG Navy at Austal training on how to use and maintain the new vessels. Their positive feedback on the greater capability, amenity and operability of the Guardian Class has been fantastic," Mr Singleton added.
"The program is now in a full rate of production, with the second vessel, which is destined for Tuvalu, successfully launched on Monday with an additional three vessels in various stages of construction. Austal are already looking at export opportunities for the GCPB."
The Pacific Patrol Boat Replacement project  supports more than 200 direct jobs at Austal and more than a further 200 indirect jobs through the Australian industry involved in the program.