Toyota Australia has reported a profit of $149.1 million after tax for the period of 2012/13, finishing with impressive results ahead of other local car makers Holden and Ford.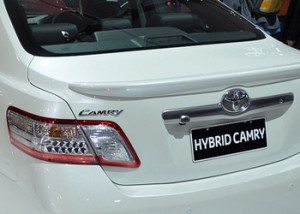 In a media release, Toyota Australia President and CEO Max Yasuda has cited several factors for the profit, including the Australian motorists' loyalty to the brand, as well as new technology in its production facility.
"Our locally built Camry, Camry Hybrid and Aurion vehicles continue to sell well in both domestic and export markets. This demonstrates we are building high quality and durable vehicles that Australian motorists want to buy and enjoy, with the Camry being the best selling vehicle in its segment for 19 years in a row," says Mr. Yasuda.
"We opened a new $330 million engine plant late last year, becoming the first Australian manufacturer to produce both petrol and hybrid engines. This has opened new export opportunities with Thailand and Malaysia and allowed us to enhance our local manufacturing capabilities."
Last year Toyota Australia introduced three brand new vehicles—the Prius c, Prius v and the 86 sports car. The domestic retail volume of Toyota and Lexus cars was more than 20 per cent higher, with 225,599 sales recorded for 2012/13. The increase is due to the company's return to full production following the effects of the Japan earthquake and Thailand floods during the period 2011/12.
Mr. Yasuda said another factor which contributed to the positive figures is the company-wide transformation plan, which aims to secure a solid foundation for future growth in Australia.
For the past 15 months Toyota Australia has been implementing a five-year plan that was established in response to the challenges being faced by the country's manufacturing industry including the high Australian dollar, stiff market competition and high cost of materials.
"Our business is being radically changed to counter both internal and external pressures impacting us. We are doing everything we can to strengthen Toyota Australia and ensure our long term future in this country as an importer and manufacturer."
Despite posting a profit for the past year Toyota Australia continues to discuss ongoing assistance from the Federal Government.
According to spokeswoman Beck Angel via a report from The Herald Sun, each year Toyota Australia injects around $1.5 billion into the local economy because of their manufacturing presence, including wages, local suppliers and taxes.
"This means that last year, for every $1 received from the government we spent more than $20 in Australia in connection to local manufacturing. If we do not build vehicles in Australia, this money may be spent in other countries," says Angel.
Toyota has received about $1.2 billion in taxpayer assistance over the past 12 years, which is a bit higher than Ford's ($1.1 billion) and significantly less than Holden ($2.17 billion) over the same period, according to the Herald Sun report.