Additive manufacturing has taken another leap in Australia after scientists successfully 'super-sized' minute insects using 3D printing technology, according to a media release from CSIRO.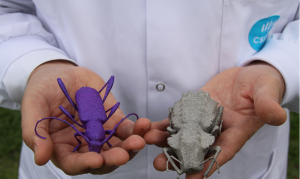 A new 3D scanning system was used to enlarge tiny insects from the Australian National Insect Collection and generate a computer aided (CAD) design file. The CAD file was then printed using a state-of-the-art 3D printer.
Chad Henry, CSIRO's Additive Manufacturing Operations Manager says that 3D printing is highly efficient and environment-friendly compared to conventional methods of manufacturing.
"3D hand scanning and additive manufacturing are just so complimentary to each other," says Henry.
"Whether it's to super size a tiny bug to something that is bigger enough to look at and handle or whether it's to make a car part that's so old and rare that there just isn't current inventory. The possibilities are endless, limited only to your needs and imagination."
The bugs were made from titanium powder, with the 3D printer adding layer upon layer of titanium to build up each bug. Up to a dozen bugs can be produced at a time within 10 hours.
"The process is perfect for building fine scale features to capture all of the intricate details of the bugs," says Henry.
The 3D bugs allow entomologists to study the features of the insects up close and physically handle them. This means they now have the ability to obtain information about the animals which would otherwise be difficult due to their minute sizes. Characteristics such as gender will now be easier to determine with the help of this technology.
"We combined science and art to engage the public and through the process we've discovered that 3D printing could be the way of the future for studying these creatures," says CSIRO Science Art Fellow Eleanor Gates-Stuart.
Originally created for a national art exhibition, Gates-Stuart says the bugs they are working with are micro-sized, some only clearly visible under a microscope.
Henry says both hand scanning and 3D printing have advanced over the years that at this point it just takes the "push of a go button" and several hours later to produce something using the technologies.
"Giant bug production is not necessarily where we saw ourselves going, however, this project is exciting because it brings together two key areas of science – manufacturing and entomology," Henry said.
CSIRO's additive manufacturing facility, Lab 22, is currently being used to manufacture a range of prototype products including biomedical implants, automotive, aerospace and defense parts for Australian industry.