QMI Solutions, a Queensland-based company that helps manufacturing businesses improve their strategies and increase competitiveness, has released an online assessment tool that will allow businesses to see how they rate in terms of strengths and weaknesses in being LEAN.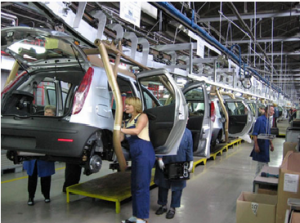 The Better Through LEAN assessment tool, available at www.betterthoughlean.com, is based on the principles of LEAN manufacturing, but it can be used by businesses from all industries who want to gain a greater understanding of their performance, according to a media release from the company.
LEAN's core idea is to maximize customer value while minimizing waste. Another way to look at it is to create more value for customers using fewer resources.
"A lean organization understands customer value and focuses its key processes to continuously increase it. The ultimate goal is to provide perfect value to the customer through a perfect value creation process that has zero waste," according to Lean.org.
To apply the LEAN principle means to shift focus from separate technologies and vertical departments to entire value streams that will flow horizontally across technologies and departments to consumers.
Targeting the elimination of waste along entire value streams instead of isolated points will create processes that require less human effort and less capital, as well as less time to produce goods and offer services at lesser cost and fewer defects.
"Companies are able to respond to changing customer desires with high variety, high quality, low cost, and with very fast throughput times. Also, information management becomes much simpler and more accurate," according to Lean.org.
Play Hard Sports, a QLD company that designs and manufactures sports equipment, has been implementing the LEAN methodology since 2009 and has improved its production efficiency across the business, including increasing on-time delivery by 80%, sales by 20% and production capacity by 30%. Lead times and defects were also reduced by 50% and 75% respectively.
"The Lean process has allowed PHS to maintain all product manufacture in Australia without importing goods. We are proud to be 100% Australian made," says Play Hard Sports on their website.
The LEAN Online Assessment Tool can be accomplished in as little as ten minutes and is available to be accessed via smart phone, tablet or PC. Users will be able to see the test results immediately and print out the evaluation report.
"It gives a snapshot of the company's LEAN strengths and indicates areas requiring attention, which provides the impetus for businesses to take the first step towards increasing customer value, and doing that by eliminating waste and improving performance," says QMI Solutions CEO Gary Christian.
"LEAN applies to every business and process; it is not a short form tactic or cost-reduction program, but a way of thinking and acting continuously for an organisation."