Australian company braaap, a manufacturer of superlite motorcycles based in Frankston, has been named the 2013 Telstra Victorian Business of the Year on Tuesday, according to a media release.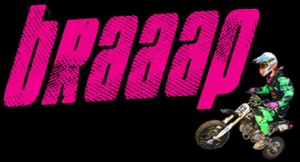 braaap also took home the Small Business Award in the ceremony held in Melbourne.
Founder Brad Smith established the company with the mission to make motorcycling fun and affordable, and attributes the success of the business to the 'braaap experience', which is driven by the joy of seeing young people ride safely.
"I want to help others build a lifestyle designed around a fun, clean and healthy adrenaline sport. I want motorbike riding to be affordable and accessible to the masses, to give them the experience I had when growing up and the connection it created with my family and friends," said Mr. Smith.
"The idea of people getting a clean adrenalin rush, having fun together, seeing people getting outside and active motivated me to design the bike, the retail experience, the consumer finance company and the tracks to ride."
In 2005 at only 18 years old, Smith travelled to China to secure a manufacturer and eventually his business grew to become an international success. braaap now has 'super concept' stores all around Melbourne, Launceston, Devonport and Hobart which sell bikes, spare parts, protective gear, and other related products.
The company has a thriving online presence and is also expanding to international markets including New Zealand and the US. During the global financial crisis braaap launched a consumer finance arm which boosted sales by 300 percent beyond the industry growth rate.
"braaap founder Brad Smith is an outstanding young entrepreneur with a clear vision and approach to business success," said Will Irving, Telstra Business Group Managing Director and Ambassador for the Telstra Australian Business Awards.
"Judges were impressed with braaap's great business model, creativity and the genuine compassion and empathy for employees as they are guided to personal, professional and financial success."
Mr. Irving says they are "thrilled" that even in the midst of tough economic conditions there are still businesses that innovate, persevere and thrive.
Other winners in the Telstra Victorian Business Awards are Melbourne-based health.com.au, an online health insurer which won the Start-up Award, Great Ocean Road Surf Tours from Torquay which won the Micro-business Award, mortgage aggregator Connective from Melbourne which took out the Medium Business Award, and Boundary Bend Olives from Lara which won the Regional Award.
The winners of the Telstra Victorian Business Awards will be judged against category winners from other states and territories in the lead up to the national Telstra Australian Business Awards. National winners will be announced in Sydney on August 22.