After conquering the aerospace and defense sector, 3D printing technology, also known as additive manufacturing, continues to make waves, this time in the world of fashion.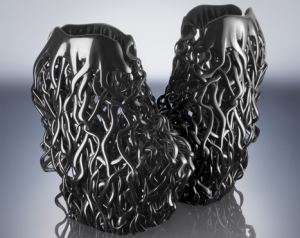 Twelve pairs of 3D printed shoes walked the runway in Dutch designer Iris van Herpen's Couture show entitled "Wilderness Embodied" during Paris Fashion Week.
Stratasys Ltd., a leading manufacturer of 3D printers and production systems for prototyping and manufacturing, printed the shoes in collaboration with van Herpen  and Dutch architect Rem D Koolhaas. The shoes featured a number of intricate geometries designed to mimic elements of nature and push the boundaries of fashion design, according to the media release.
"For me, fashion has always been about setting your own boundaries and making a statement," said van Herpen.
"This time around, Rem and I wanted to create something that echoed the beauty and wilderness of the natural world, so we decided to use the technological capabilities of 3D printing to bring this concept to life through a pair of shoes."
The result of the collaboration is a spectacular collection of shoes that are designed to imitate the natural growth of tree roots.
"I'm thrilled with the results, they're stunning and original. Iris is very dramatic with her concepts and the shapes she wanted were only possible with 3D printing – they are almost like a sculpture on your feet, mimicking nature," said Koolhaas.
Stratasys printed the shoes using  rigid opaque black and white materials on the PolyJet-based multi-material Objet Connex and Objet Eden 3D Printers. According to the company the high resolution of the printers enabled the complex geometries which were integral to the design.
Ms. van Herpen says the technology was able to produce shoes that were able to withstand the stress imposed by the models.
"The Stratasys rigid black material was fantastic in giving the shoes a glossy look that would catch the eyes of the audience at the show. It amazes us how 3D printing can produce such beautiful shoes that perform remarkably under the stress of being walked in."
This is not the first time van Herpen commissioned Stratasys for a project. The two have already created a 3D printed dress together with Professor Neri Oxman.
Meanwhile it is the first time for Koolhaas, who is also the founder of shoe company United Nude, to produce and showcase an entire collection of 3D printed shoes on the catwalk.
"Working with Stratasys also enabled us to quickly test the shoes during the design process and adjust our concepts for optimal function and form. So it was easy to make changes and get exactly what we wanted. Once we locked down the perfect design, we printed 12 pairs of fashion shoes in less than a week," said Koolhaas.
Vice President Marketing for Stratasys Arita Mattsoff says they are delighted to be collaborating once more with prominent designers on their second showing at Paris Fashion Week.
"We believe that 3D printing has become a true creative-enabler for the fashion world. Designers are no longer limited with conventional manufacturing. They can now produce virtually anything they can imagine. For that reason, we feel that 3D printing will become more and more an integral part of fashion design curriculums."