Australian food producers have been complaining about a "double standard" in the industry, saying imported fruits and vegetables do not undergo the same rigorous testing for chemicals like locally grown food.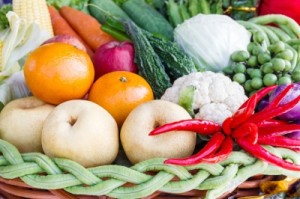 A report from Today Tonight's Laura Sparkes revealed that domestic produce undergo a testing for 135 chemicals, while imported products are only tested for 50 chemicals, if they are tested at all.
According to the report, data shows that only one in 20 imported containers of vegetables are tested, despite the approximately $900 million worth of products entering Australia.
In contrast, Sparkes says supermarkets won't even buy products from local farmers unless it is proved that the banned chemicals have not been used.
While fruit and vegetable growers religiously comply with the stringent guidelines, which includes keeping a record of the products they spray and where they spray it, and even tallying wind speed, it is unfair that they should keep at the red tape while imported goods hit the shelves without going through the same inspection.
This comes at a time when fruit trees are being burned down, while fruit and vegetable imports nearly doubled in the last seven years. According to Sparkes, 750,000 hectares of peach trees have been burned down in Victoria's Goulburn Valley after the SPC Ardmona cannery axed half of its suppliers. Simplot in Devonport is also under threat.
Farmers blame the crisis in food manufacturing on the influx of imports, with one farmer interviewed saying it's both the government's and the supermarket's fault. The government allows imports to take over the food industry, while supermarkets continue to tolerate and patronize food from other countries.
The report made a comparison of canned peaches being sold in supermarkets. SPC's canned peaches sell for $3.99 while Coles' home brand, which contained imported peaches from South Africa, sell for $1.49.
Ultimately the question is 'are these imported products safe?'
Chemical tests conducted nine months ago revealed that traces of the fungicide cyprodinil and the banned chemical boscalid are present in a bag of Woolworths Select Whole Green Beans, with beans coming from Belgium.
A bag of McCains cut beans from New Zealand also had traces of the highly toxic fungicide procymidone.
Hugh Gurney of Ausveg has expressed concern over the lack of testing done on imported produce.
Gurney says the current level of testing of imported products which is at 5% should be increased to 25% to provide surety that products entering the country are free from chemicals that are banned here.