The Australian Made Campaign is calling on all sides of the Government to show stronger support for country-of-origin branding.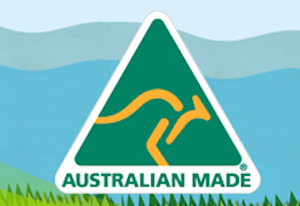 Australian Made Campaign Chief Executive Ian Harrison said the Australian brand is one of the most powerful assets available to businesses in global markets but the government and bureaucratic circles are consistently underestimating its value.
"In an environment where increased costs and a high $AUD have seriously undermined the competitiveness of many Australian products, country-of-origin is an asset we should be driving much, much harder," Mr. Harrison said in a media release.
"A stronger focus on country-of-origin branding using Australia's registered country-of-origin trade mark – the Australian Made, Australian Grown logo – would help support manufacturers, farmers and processors producing genuine Aussie products."
The green-and-gold Australian Made, Australian Grown (AMAG) logo is the only registered certification trade mark for Australian country-of-origin claims. Spotting the logo is the surest way for consumers to know that what they are buying are genuinely Australian products. The logo is administered by Australian Made Campaign Limited, which oversees the licensing of companies to use the logo and promote Australian products in the domestic markets and abroad.
The Federal Government transferred ownership of the logo to AMCL back in 2002, via a Deed of Assignment and Management, which lays down conditions under which AMCL may administer the logo.
"There is more than enough public benefit associated with the Australian Made, Australian Grown logo to justify a much deeper, strategic partnership between the Government and the campaign behind the logo," Mr. Harrison said.
The organization has also called for measures that would help reduce the "unacceptable level of confusion" among Australian consumers regarding CoO labeling laws in Australia.
"It's important that we rebuild confidence in the system and add marketing value to the manufacturing, growing and processing of products in this country."
"We are lobbying the Government to work together with us on this."
More than 1,800 companies use the logo on more than 10,000 Aussie products sold in the domestic markets and abroad. According to Australian Made, research by Roy Morgan in 2012 has shown that 88% of Australian consumers express strong confidence that a product is truly Australian when they see the AMAG logo.