Newly merged desktop 3D printing company MakerBot is now pre-selling its MakerBot Digitizer on its website.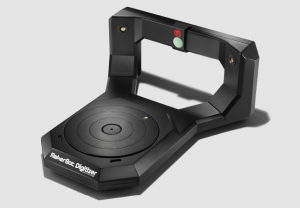 The desktop scanner costs $1,400 and it will be shipped to those who order it now in mid-October. For an additional $150 customers can also avail of the Digitizer's MakerCare, its service and support program.
The MakerBot Digitizer can scan physical objects up to 8 inches tall, 8 inches wide and up to 6.6 lbs. in weight in just 12 minutes. The measurements can then be printed on the MakerBot Replicator 2 or on other 3D printers. Scans can also be uploaded directly to Thingiverse.com, MakerBot's online community which has over 100,000 members.
By simply putting the object on the turntable, the MakerBot Digitizer scans it using a camera and two lasers, creating a 3D digital file, without the need for design skills or prior 3D printing experience.
MakerBot CEO Bre Pettis says the company is very proud of the MakerBot Digitizer, which builds out the entire MakerBot 3D ecosystem.
"Bringing the MakerBot Digitizer Desktop 3D Scanner into the world has been a big goal of ours this year," said Mr. Pettis.
"We are really excited about the MakerBot Digitizer. This is another innovative product for visionaries, early adopters, experimenters, educators, creative hobbyists, 3D sculptors, organic modelers, designers, and architects who want to be the first to become an expert in Desktop 3D Scanning."
The MakerBot Digitizer can be used in offices, manufacturing spaces, workshops and classrooms. It can also be used at home to create artworks or keepsakes, says MakerBot in their press release.
"We believe that the MakerBot Digitizer Desktop 3D Scanner is an innovative technological breakthrough that sets the standard for affordable desktop 3D scanning," said Mr. Pettis.
"We focused on making the MakerBot Digitizer super easy to use, intuitive and simple. The MakerBot Digitizer is powered by MakerBot MakerWare software, and we plan to offer in the future additional software updates that are expected to add even more features and capabilities."