Prime Minister Tony Abbott has announced an increase in car industry assistance to help Victoria and South Australia manage the impact of the exit of major car manufacturers from Australia.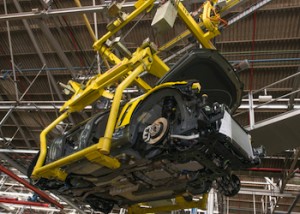 The original Growth Fund budget of $100 million previously announced in December following Holden's decision to cease manufacturing in the country has been boosted to $155 million and now matches the contributions from the Victorian and South Australian governments.
"This $155 million growth fund will include money for skills recognition, money for employment services, money to help businesses transition to new markets," Mr Abbott said, quoted in an AAP report.
"The objective as always is to maximise prosperity, maximise employment, to build on the inherent creativity of businesses … (and) it's about helping workers to go from good jobs to better jobs."
Mr Abbott said there will also be funding set aside for businesses that seek to innovate and a portion set aside for local infrastructure.
"We are committed to building a strong manufacturing industry in Australia that realises the significant opportunities to expand into new markets and create new jobs in areas where Australia has competitive strengths," according to the joint statement released by the Prime Minister and Industry Minister Ian Macfarlane.
The Growth Fund includes:
a $30 million Skills and Training Programme
a $15 million boost to the Automotive Industry Structural Adjustment Programme
a $20 million Automotive Diversification Programme
a $60 million Next Generation Manufacturing Investment Programme; and
a $30 million Regional Infrastructure Programme
"The Government's plan to ease the transitions underway in the wake of the historic announcements to end automotive assembly in Australia is an important initiative that has the potential to make a real difference to the businesses and employees in the sector and those working in their immediate supply chains," Australian Industry Group Chief Executive, Innes Willox, said in a statement.
"Assisting these employees to find new jobs and undertake training to widen their opportunities will have positive social and economic impacts.
While others welcome the funding, there has been a strong sentiment from unions and the opposition that the budget remains extremely inadequate.
The Australian Manufacturing Workers Union believes the increase to the car industry assistance package is at risk of being wasted if it is spent on training for jobs that don't exist.
AMWU National Secretary Paul Bastian said there are almost no new manufacturing jobs being created to replace the th0usands that will be gone once car making ends in 2017.
"The AMWU is calling for a serious economic analysis to base a final contribution on," Mr Bastian said.
"We need properly-targeted industry policy that includes job creation – not a facade of assistance."