The Australian Manufacturing Workers Union has rallied outside Liberal party headquarters in an attempt to pressure the Federal Government to reconsider its position to quit supporting major auto manufacturers Holden and Ford.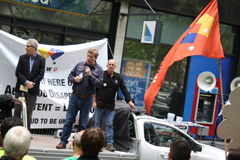 Both companies have announced that they will be moving their production out of the country, a decision that puts thousands of jobs in jeopardy.
According to a news release issued by AMWU, ACTU secretary Dave Oliver and AMWU Victorian Secretary Steve Dargavel have both urged the government to back the industry, proposing a set of policies aimed at helping the companies in the auto sector to re-structure and diversify their production in order to compensate for the jobs that will likely be lost after the Holden and Ford fiasco.
Thousands of angry manufacturing workers took part at the rally in Central Melbourne during which AMWU officials handed the Liberal Party a document titled "A Prosperous Australia" containing proposed measures to rectify the worrying situation in the automotive business.
Mr Dargavel said the Coalition Government should stop prioritising mining and banking over the auto industry, as they do not employ nearly as much people in manufacturing as the auto industry.
He said Holden Chief Mike Deveraux has pinpointed long-term public support as one of the three key ingredients for sustainable car production in any country, which Australia was not prepared to offer.
"You're in government state and federal and you're going to have to put in a multi-billion dollar package to support jobs," Mr Dargavel said, directing his words at Liberal Party staffers inside.
He said the mining industry will not be able to absorb all the skilled workers from the auto industry and associated manufacturing whose jobs hang in the balance.
"We need the skilled manufacturing jobs that will support workers, jobs that give workers a quality future."
Mr Oliver said the Government failed to deliver on its promise to create 2 million extra jobs and that the Abbott Government severely undermined the future stability of industry investment in manufacturing in the first 100 days since coming to power.
"We all know what is required to create a strong economy, a strong and vibrant manufacturing industry," Mr Oliver said.
"Australia needs a strategy for innovative, high tech and research and development – don't let Abbott shift blame on to workers."