Global leader in protective solutions Ansell has introduced a new light duty glove with optimal performance and flexibility for workers exposed to irritant contact fluids found in the marketplace.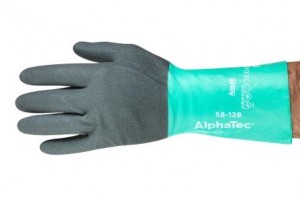 According to the company's press release, the AlphaTec 58-128 glove features ANSELL GRIP Technology, which enables more precise handling of small oily wet parts and relieves hand fatigue while improving dexterity, safety and productivity at the same time.
Steve Genzer, President and General Manager of the Ansell Industrial Global Business Unit, said the new glove is designed with Thin Nitrile Technology to provide a barrier for superior hand protection against oils and other irritant fluids, including selective chemical risks with forearm splash protection.
He said the ergonomic construction combines flexible open weave knit liner and stretchy nitrile formulation coating to provide better dexterity and tactility for prolonged periods of wear, making the gloves ideal for use in chemical, machinery & equipment, metal fabrication, automotive and agriculture industries.
"We found that workers handling chemicals on a daily basis were getting necessary chemical protection, but having to compromise comfort, dexterity or tactility as a result," Mr Genzer said.
"Workers in this environment need a glove that encourages natural movement and reduces hand fatigue just as much as they need protection against chemicals, which is why we're proud to introduce the AlphaTec 58-128."
The company said that its AlphaTec 58-128 gloves are available in five sizes.