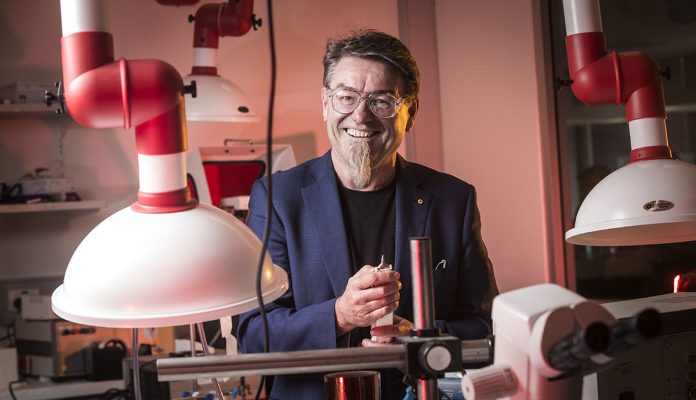 Thanks to researchers from the University of Wollongong (UOW), Australians now have access to revolutionary treatment for people with Type 1 Diabetes.
UOW scientists have created the  Pancreatic Islet Cell Transplantation (PICT) 3D Printer  that is capable of delivering insulin-producing islet cells from a protective bionic into a printed scaffold which is perfectly suited for transplantation. Further, the printer has the potential to reduce the risk of rejection because the printed transplant material can be created using the patient's own cells.
The first to reap the benefits from this cutting edge biomedical printing device will be the Royal Adelaide Hospital (RAH). The 3d bioprinter was officially handed over last week by South Australian Minister for Health Peter Malinauskas and ARC Centre of Excellence for Electromaterials Science (ACES) Executive Director and ANFF Materials Director, Professor Gordon Wallace.
According to RAH Director of Kidney and Islet Transplantation, Professor Toby Coates, the new 3d bioprinter will allow for the creation of new customised organs.
"The PICT Printer will allow us to make customised organs, mixing donor with recipient cells in a unique 3 Dimensional way to provide completely new composite "organoids" for experimental transplantation," Professor Coates said.
"ACES at the University of Wollongong has built a collaborative clinical research network that enables us to tackle big clinical challenges and deliver practical solutions using 3D bioprinting," Professor Wallace said.
"In collaboration with Professor Toby Coates' team at Royal Adelaide Hospital, we plan to improve the effectiveness of islet cell transplants by encapsulating donated islet cells in a 3D printed structure, to protect them during and after transplantation."
Another amazing aspect of this achievement the fact that the printer can print multiple cell types in the same run, so endothelial cells, which are responsible for installing blood flow to the drafted islet cell, can be implanted to guarantee better islet cell survival.
The University of Wollongong is currently building a 3D bioprinting facility thanks to a $347,000 grant from the Australian Research Council.
The new world-first facility is set to expedite development of commercial opportunities in 3D bioprinting.