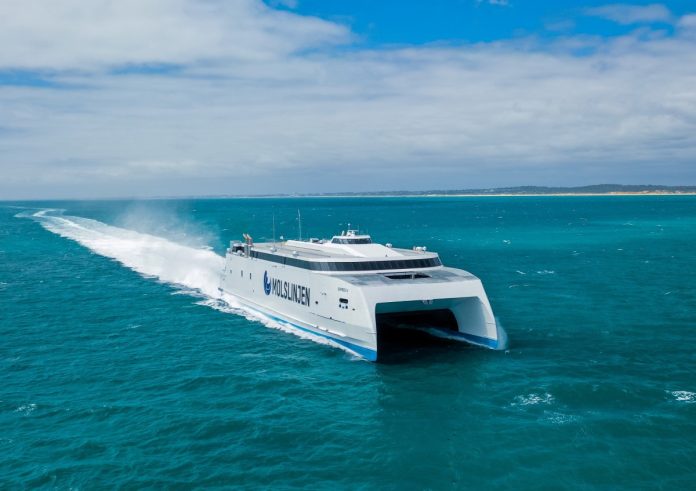 Austal has officially delivered a 109 metre passenger ferry to Denmark's Molslinjen, marking the start of a 27-day voyage from Henderson to its home port in Odden in Denmark.
The A$109 metre vessel, which will be named 'Express 4', is capable of operating at speeds of up to 40 knots and can carry more than 1,000 passengers and 425 cars.
Powered by four MAN engines, the vessel is based on Austal's proven catamaran platform but features a new optimized hull shape that delivers better performance and greater fuel efficiency.
Austal CEO David Singleton noted that it is the largest commercial ferry (by volume) that Austal has ever built at its shipyard in Henderson, Western Australia.
"The design and engineering enhancements pioneered by Austal's Australian design team will enable Molslinjen to achieve low operating costs and deliver an enhanced passenger experience, two of the most important factors for global operators of large high speed ferries," Mr Singleton continued.
""Delivery of the Express 4 to Molslinjen confirms Austal's position as Australia's pre-eminent shipbuilder of large high-speed commercial craft, and we expect delivery and operations of this vessel will trigger future orders for similar vessels from other ferry operators."