Australian shipbuilder Austal has announced that preparations have begun for the official launch of the first of two high-speed support vessels (HSSVs) on order for the Royal Navy of Oman (RNO).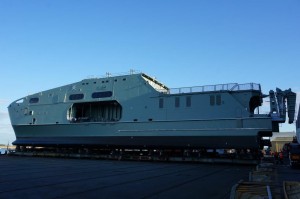 The official roll-out of the first HSSV took place at the company's Western Australia shipyard.
"The rollout of the first Offshore Patrol Vessel (OPV)-sized HSSV not only extends Austal's naval vessel portfolio but further demonstrates our consistency in delivering major, multiple naval vessel programs, on schedule," said Austal Chief Executive Officer Andrew Bellamy.
Construction of the two HSSVs for the RNO began in August 2014. Austal was contracted to design, construct and provide integrated logistics support of the two HSSV's in March 2014.
The deal is worth US$124.9 million.
The two-ship programme is intended to boost the RNO's sealift capabilities.
"Based on the proven Expeditionary Fast Transport (EPF) platform, previously known as the Joint High Speed Vessel (JHSV), the HSSV offers a range of capabilities to support naval operations, including helicopter operations, rapid deployment of military personnel and cargo, search and rescue operations, humanitarian aid and disaster relief missions," Austal said in a media release.