The Chicago Cubs and New York Yankees have announced that they have chosen an official sunscreen: Blue Lizard® Australian Sunscreen.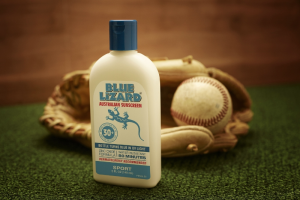 "As a team whose charity has a focus on health improvements, the Cubs are very pleased to work with Blue Lizard Australian Sunscreen to help prevent skin cancer. We look forward to providing sunscreen directly to our fans as they enjoy our games this spring and summer," said Allen Hermeling, Senior Director, Corporate Partnerships, Chicago Cubs.
"We are very excited to enter a relationship with Blue Lizard Australian Sunscreen. We look forward to working together to increase protective awareness in our fans, both at Yankee Stadium and in the tri-state area, fighting skin cancer," said Michael J. Tusiani, New York Yankees Senior Vice President of Corporate Sales and Sponsorships.
Aside from being a powerful weapon against skin cancer, Blue Lizard is the only sunscreen on the market that utilises the patented Smart Bottle™ technology which causes the bottle, or caps on tubes, to change colour when exposed to UV rays.
Born in Australia, the Blue Lizard products are now manufactured in the US by Crown Laboratories, but adhere to the strict Australian standards – the highest in the world.
Blue Lizard is the brand most recommended by paediatricians and dermatologists and is also ranked as a top sunscreen by the Environmental Working Group.
For more information about the product, please go to http://www.bluelizard.net/