Australia's manufacturing sector slumped in August for the first time in 13-months, breaking its longest period of continued growth in more than a decade.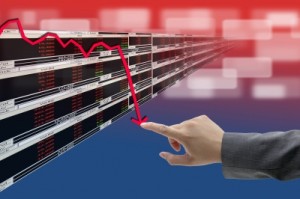 The Australia Industry Group (AiG) performance of manufacturing index (PMI) recorded a sharp decline to 46.9 in August after surging to 56.4 in July.
According to Ai Group's report, six of the seven manufacturing activity sub-indexes contracted in August, with production (down 9.4 points to 43.0), employment (down 11.9 points to 44.6), exports (down 14.8 points to 44.7), deliveries (down 16.4 points to 46.2) and sales (down 14.1 points to 45.7) all slipping from expansionary results in July.
Food, beverages & tobacco (down 4.0 points to 48.7) joined textiles & clothing (down 1.8 points to 46.3) below the 50 points mark – which separates expansion from contraction –  whereas new orders continued to grow in August, albeit at a slower pace (down 7.3 points to 51.5) than in July.
The good news is that five of the eight manufacturing sub-sectors remained in expansion including printing & recorded media (up 6.4 points to 63.6), metal products (up 1.1 points to 55.9), petroleum & chemical products (down 2.5 points to 54.8), non-metallic mineral products (down 3.3 points to 53.6) and wood & paper products (down 7.6 points to 52.0).
Additionally, the input prices (down 0.3 points to 58.7) and wages (down 3.5 points to 56.2) sub-indexes remained strong, while selling prices reversed slipped by 4.4 points to 50.3.
"At 46.9 the August result for the Australian PMI® is the lowest since June 2015 when it was 44.2 points. These low results 'bookend' a run of 13 months of expansion (July 2015 to July 2016 inclusive). A sharp fall in food & beverages in August, which had been the mainstay of recent growth, was a major factor in the correction seen in manufacturing activity. Conditions also deteriorated for manufacturers of non-metallic mineral products and the recent growth spurt in the metals products sub-sector came to an end," said Ai Group Chief Executive, Innes Willox.
"For manufacturing as a whole, despite gains in a number of other sub-sectors, production, sales, employment and stocks all fell in August. Continued growth in new orders is a ray of optimism for a sector keen to avoid this correction becoming a downturn. The continuing patchiness both of the manufacturing sector and the broader economy underscores the importance of lifting confidence and improving policy settings in areas such as workplace relations, taxation and budgetary policy."