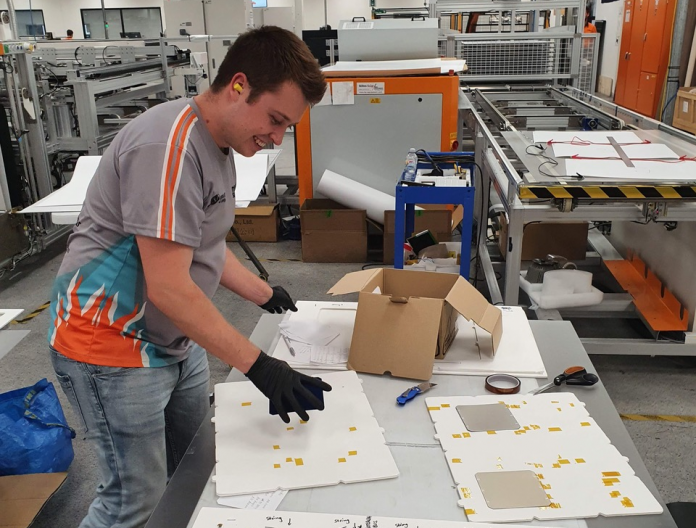 Media Release
Students from Australian National University have again sought the assistance of Tindo Solar as they build a solar car to race later this year.
The biennial Bridgestone World Solar Challenge has been changed to an online challenge in 2021 because of COVID-19, however the ANU Solar Racing Team is staging its own solar car race in Australia for teams willing to compete.
"We were disappointed that the World Solar Challenge was changed to an online event," says ANU Solar Team Technical Lead, Alex Ambrosi. "So we are working with the other Australian teams to stage our own event later in the year, and we are working on a car to compete in that race."
In Mid-April eight of the 40-strong ANU Solar Team spent a week in Adelaide with the engineers and technicians from Tindo Solar, Australia's only manufacturer of solar panels.
Mr Ambrosi said Tindo had been helping the ANU Solar Team since 2017, with crucial technology insights and innovations.
"Tindo is Australia's only maker of solar panels, so the company has expertise in cell and module technology that helps us build the best car," said Mr Ambrosi. "We can run simulations and modelling on our car, but when we visit Tindo we can determine which ideas will work."
Mr Ambrosi said critical to developing the ANU solar car – yet to be named by naming sponsor Spirit Super – was placement of the 256 solar cells and the 21 modules to gain the best exposure to the sun and optimum aerodynamics. The previous ANU solar car that competed in the 2019 race produced around 1 kw of power that was stored in a 5 kw/h battery, propelling the car to speeds between 60 and 85 km/h across the 3000km adventure from Darwin to Adelaide
"We're lucky we have this solar expertise in Australia," said Mr Ambrosi, an Engineering student. "A lot of us want to work in the renewables sector and it's good to know there's an Australian manufacturer."
Chief Executive Officer of Tindo Solar, Mr Shayne Jaenisch, said the company had enthusiastically assisted the ANU Solar Racing Team to develop its cars, as well as the racing teams from TAFE SA and University of Adelaide. "We have the experts, the materials and the equipment to get the best out of a solar car. We also see an educational role for ourselves and our partnership with tertiary institutions allows us to fulfil that role."