Australia's world-leading solar heliostat technology is set to be rolled out in China as part of a landmark agreement between CSIRO and Chinese company Thermal Focus.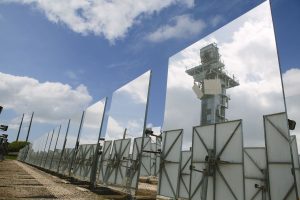 The agreement, which was signed at the Asia-Pacific Solar Research Conference in Canberra on Tuesday, will see Thermal Focus sell and install CSIRO's patented low cost heliostat technology, with the revenue stream flowing back into Australia to fund further climate mitigation research.
Minister for Industry, Innovation and Science Greg Hunt described the agreement as "a recognition of Australia's outstanding expertise in this field".
"CSIRO's technology will help China reach its renewable energy targets and produce 1.4 GW of CST by 2018, and up to 5 GW by 2020 – which is a doubling of the world's installed CST plants," the Minister said.
Solar thermal technology uses a field of computer-controlled mirrors (heliostats) that accurately reflect and concentrate sunlight onto a receiver on top of a tower.
The concentrated sunlight can then be used to heat and store hot molten salt, which can generate superheated steam to drive a turbine for electricity generation.
Mr Hunt said an advantage of this system is the very low cost of storing thermal energy, giving CST technology great potential for medium to large-scale solar power, even when the sun isn't shining.
"A heliostat field can represent up to 40 per cent of the total plant cost so low cost, high precision heliostats are a crucial component," the Minister remarked.
"CSIRO's software optimises the configuration of the heliostats prior to construction and manages each heliostat to ensure the optimum amount of reflected heat is focused on the receiver, maximising the amount of power that can be produced."